Bing, Yahoo Begin Accepting European 'Right To Be Forgotten' Requests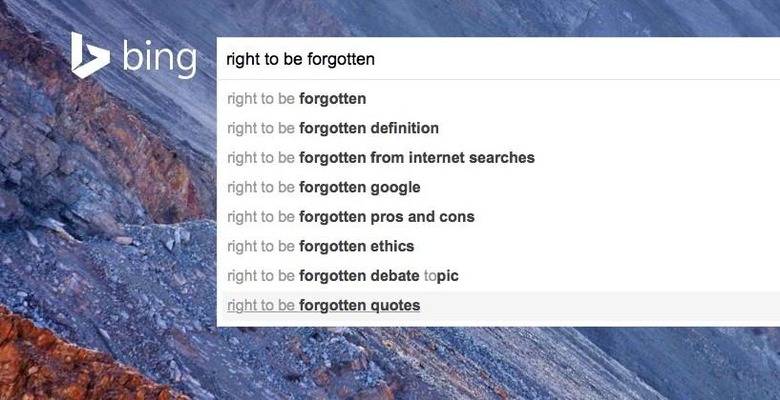 Good news for individuals in Europe looking to have unwanted information about them purged from internet search results, as Microsoft's Bing and Yahoo's search have officially started accepting and processing "right to be forgotten" requests. This follows a ruling in May by the European Union's Court of Justice that gives people the right to make such requests, and requires search engines to comply under certain circumstances.
Most of the attention about the right to be forgotten has been focused on Google, which began removing links in June. The court's decision was made as part of Spanish man's lawsuit against Google. Google's method for removing links has been heavily criticized however, as the company told publishers when they have removed a link to their site. This, is turn, has most often drawn more attention to the act of removal, along with the reposting of the details that were removed from search results.
Bing says it began accepting requests in July, and it appears they have now begun responding to requests. Forget.me, a site where people can submit requests to search engines, says that out of 699 appeals, 79 have been responded to, with all being denied. The reason for refusal for all but two of these requests is because the links are directly to content on social networks. Bing has suggested attempting to remove the content from the networks directly, as that will remove undesirable search results. The other two requests were denied because of unjustified reasoning.
Spokespeople for both Yahoo and Bing have confirmed their beginning to take action on requests, however they have not offered any details about their process for deciding what is a valid reason for removal. Both search engines have said their goal is to find a balance between the public's right to information and users' rights to privacy.
SOURCE Wall Street Journal
MORE Forget.me Blog