Binatone iHome and DSP Multimedia Handset slap Android on DECT landlines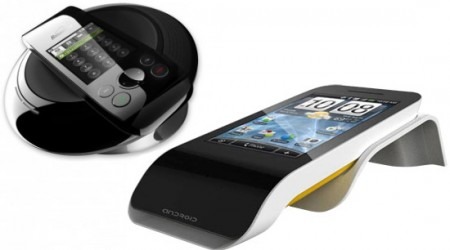 The landline phone industry lacks the glamour (or at least the relentless hunger for an upgrade) of its cellular sibling, and so it's perhaps no surprise that manufacturers are looking to borrow some Android hype.  Both Binatone and DSP have added their Android-powered landline phones to the ring, in the shape of the Binatone iHome and the DSP Multimedia Handset.
The iHome has a DECT cordless handset and hooks up to your network via WiFi for data services like email, browsing and internet radio.  It has a 2.8-inch 240 x 320 touchscreen, microSD slot and a speakerphone, with stereo speakers in the docking station, and you can pair up to five handsets with a single dock.
Meanwhile the DSP Android-powered Multimedia Handset – which curiously they've used a screenshot of HTC Sense for in the render – is intended to work as a combination phone, internet portal, DLNA media player and remote control.  It too has both WiFi and DECT.  No prices or release dates for either device; the Binatone looks to be intended as an end-user platform, while the DSP seems to be designed to slot into the company's greater home automation range.