Billionaire launches internet-based FilmOn HDTV service in US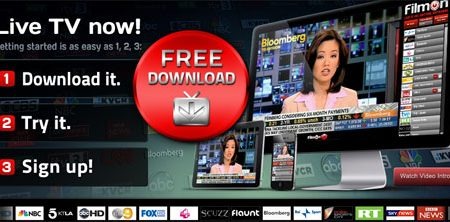 Billionaire David Alki has announced the launch of the first internet-based HD TV service in the US called FilmOn. The FilmOn service is an internet based streaming service that can stream 30 free to air networks and is based in LA. I would assume that means that the network shows and other content are from LA affiliates.
The service offers content from networks like CBS, ABC, NBC, KCAL, FOX, KTLA, Russia Today, BBC News, RAI Sports, Dubai Sports, TVE Spain, SCUZZ , FLAUNT and other networks. To use the FilmOn service you have to download a free HDi Player from the FilmOn website. The service can send content to the PC or to mobile devices.
Users need a broadband connection and the monthly fee for the service is $9.95. The HD video needs a connection of at least 1Mbps and HD is supported on mobile devices with Dolby 5.1 sound as well. The service has been in beta for the last year and has several million viewers according to FilmOn.