BFP Retro F-150 brings old-school style to a new truck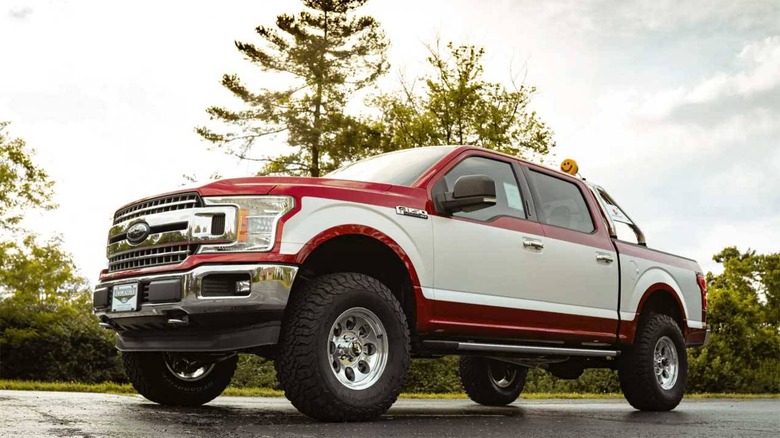 A Ford dealer out of Cincinnati, Ohio has made a very cool customized package for the 2019 Ford F-150. The Ford F-150 has been around for decades now and has been the best selling vehicle in the country for many years. One of the iconic features of past generation F-150 trucks was Ford's two-tone paint.
Ford stopped offering the classic two-tone paint look years ago, but Beechmont Ford is bringing it back. The truck in the images is a 2019 Ford F-150, and the white two-tone look you see isn't paint, it's a satin white vinyl material stuck to the sides. That means if you tire of the retro looks, it can be removed.
While the white center section might be the most obvious item in this truck package, it's not all you get. The truck comes with a 3.5-inch suspension lift and 17-inch polished Mickey Thompson wheels and 35-inch BFGoodrich all-terrain tires. A chrome Black Horse rack in the bed of the truck holds four old-school round KC HiLites on the top.
Beechmont Ford will fit this special package to any 2019 F-150, but it recommends that buyers start with the XLT or Lariat chrome package trucks to bring the retro style up a notch. The fun doesn't stop at this cool BFP Retro F-150 package that ups the style of the truck.
The dealer will also sell buyers a Roush or Whipple supercharger to strap onto the available 5.0L V8 engine in the F-150 truck. Buyers wanting a more efficient ride can also get the package on the 2.7-liter, or 3.5-liter EcoBoost equipped trucks. As for pricing, Beechmont Ford says that the BFP Retro F-150 package adds $9,995 to the price of the base truck.