Bethesda announces The Elder Scrolls VI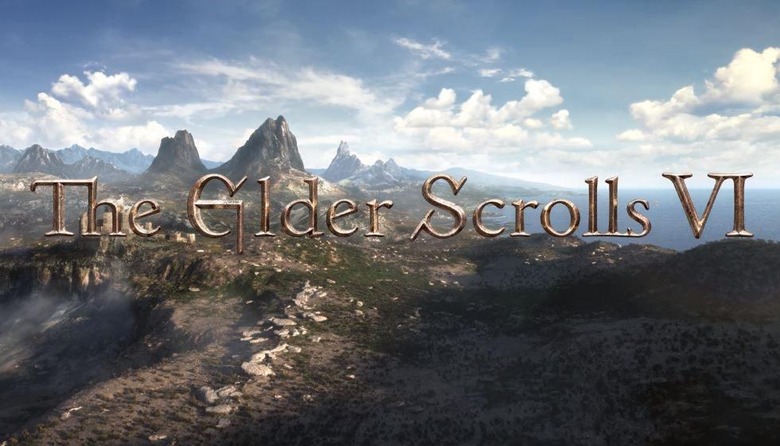 At the tail end of Bethesda's E3 2018 press conference this evening, Todd Howard made a whopper of an announcement, confirming once and for all that The Elder Scrolls VI is indeed a thing that exists. At this point, we're not sure how far along in development it is (if it's in active development at all), but we do know that we're going to be waiting a while for it to arrive. There was no release date given, but Howard said that it's coming after Starfield, another game Bethesda revealed this evening.
Given that Starfield was only briefly tease, we can probably assume that it's still pretty far out from release and that, by extension, Elder Scrolls VI is as well. The teaser trailer that announced Elder Scrolls VI was hardly much of a teaser, for that matter, merely showing us fog-covered hills giving way to rather lush looking valley on the coast.
That leaves ES6's setting up in the air, and without a subtitle, it's impossible to know for sure anyway. Still, regardless of how far away the game is, fans are probably super excited for it after seven years of Skyrim and its various ports. Bethesda's love of porting Skyrim to new platforms was actually the butt of a joke during the press conference, with the company showing a spoof ad for Skyrim on Amazon Echo. Have a look below.
So, there you have it, folks. The Elder Scrolls VI has been officially announced and now it's time to play the waiting game. We're definitely not going to hear more about this game before Fallout 76 releases in November, and it's very likely that we won't hear anything new until E3 2019. We'll let you know when there's more to report, but in the meantime, head down to the comments section and let us know your ideal setting for The Elder Scrolls VI.