Bestseller Covey picks Amazon in ebook publisher wars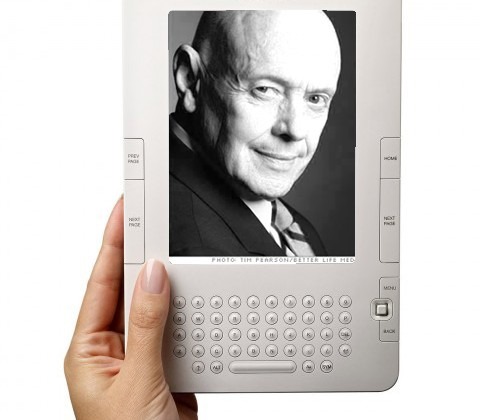 After last week's stand by three reasonably big-name publishing houses that they would be purposefully delaying ebook releases in a bid to preserve hardback and bestseller pricing, Amazon have cozied up with bestselling author Stephen Covey to show that it's not quite as clear-cut an issue.  While the publishers claim to be doing what's in the best interests of both them and the authors they represent, Covey has initially shifted ebook rights for two existing titles from his print publisher, Simon & Schuster, exclusively to Amazon.  Simon & Schuster were one of the three publishers who announced ebook delay plans last week.
The move will net Covey more than half of royalties on the Amazon sales, compared to the roughly 25-percent he would get through a traditional publisher, and according to Amazon there are future ebook exclusives in the pipeline.  As for Simon & Schuster, all they'll say is that "electronic editions of our backlist titles belong in the Simon & Schuster catalog, and we intend to protect our interests in those publications."
Press Release:
Amazon.com's No. 13 All-Time Bestselling Author Stephen Covey Now Offering E-Books Exclusively in the Kindle Store

Stephen Covey's "The 7 Habits of Highly Effective People" and "Principle-Centered Leadership"Made Available by FranklinCovey for Download in Under 60 Seconds

SEATTLE, Dec 14, 2009 (BUSINESS WIRE) — Amazon (NASDAQ: AMZN) and FranklinCovey Co. (NYSE: FC) today announced that electronic versions of Stephen Covey's bestselling books, "The 7 Habits of Highly Effective People" and "Principle-Centered Leadership," are now available exclusively in the Amazon Kindle Store for $7.99 (www.amazon.com/kindlestore).

This is the first time these titles are available as e-books, and Kindle customers can expect to see more books by Covey available for download exclusively in the Kindle Store in the future, including the soon-to-be-released "Great Work, Great Career." Kindle is the most gifted, most wished for and the No. 1 bestselling product across all categories on Amazon.com–not just electronics. Customers can now download and start reading Covey's books on Kindle, Kindle DX, Kindle for iPhone and Kindle for PC in under 60 seconds.

"Our customers have long been fans of Stephen Covey, the 13th bestselling author of all time on Amazon.com," said Russ Grandinetti, vice president, Kindle Content. "We're thrilled to offer these titles to Kindle customers and hope we can help them reach an entirely new audience."

Despite being published 20 years ago, "The 7 Habits of Highly Effective People" is a perennial top 50 bestselling book on Amazon.com. The author of several acclaimed books, Covey has also received numerous honors and awards, including being named one of Time magazine's "25 Most Influential Americans." The print versions of Covey's books are published by Simon & Schuster. These electronic versions of "The 7 Habits of Highly Effective People" and "Principle-Centered Leadership" are being published through RosettaBooks. For more information about Stephen Covey, visit www.stephencovey.com.

"This is the first time these books have been available in a digital format, and I'm happy to be able to offer them exclusively on Kindle," said Covey. "With so many readers using Kindle, this is a very effective way to reach people who want to easily download the books and begin reading them instantly."

Kindle is in stock and available for immediate shipment today at www.amazon.com/kindle.