Best Password Managers for 2016 - Take control of your logins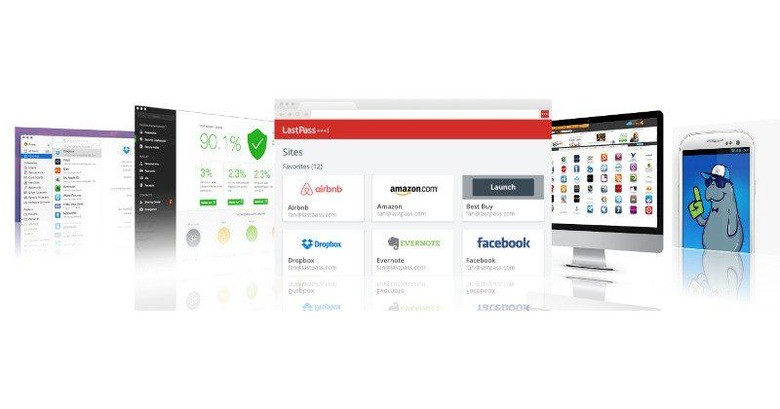 It's 2016 and people have stored more information, a lot of the private, on a public, intangible system more than any other time in the history of mankind. And yet, these very same people protect those pieces of themselves with passwords like "1234" or "password". The increasing rate of hacks don't seem to be enough to shock people into adopting better habits when it comes to their digital lives. Because, let's face it, trying to come up with more than a dozen strong passwords is a tough job, much less remembering all of them. That is why there are such things as Password Managers to do the heavy lifting for us, and still they aren't utilized enough. In the interest of spreading the word, here are our top five picks for Password Managers for this year.
The Why
First, a brief 101 on password managers. Almost all mainstream modern web browsers today have a password manager of some sort, but that is a far cry from what full-fledged password managers are capable of. While built-in browsers only remember and fill out passwords for you, real password managers create, analyze, protect, and share your passwords, across different browser, platforms, or devices.
At their very core, password managers offer three fundamental features. They help users create very strong passwords, because we are all terrible at creatively thinking of those, and can analyze your existing passwords to tell you if they're up to snuff. Of course, they remember these passwords for you and promise to protect them through encryption and with a (hopefully strong) master password that most of these services don't even keep. And finally, they offer the convenience of filling out online forms for you, especially those that request your password or sensitive (read: money) details.
This is the basic calling of password managers. Everything else is icing on top. And it turns out, that's the icing that also separates the pros from the runners-up.
The What
There are literally dozens of password managers out there, each of them vying for users, and, of course, their cash. They do almost all have the same basic set of capabilities outlined above. But not all password managers are created equal and not all of them do the same things the same way. That does, at least, make it easier to pick out which ones to choose and stick to.
LastPass
LastPass is the old veteran in this group, now at version 4.0. Of the five, it is the most far-reaching, embracing not just browsers on Windows and macOS, but even Linux, which is rare. It even supports Windows Phone, also rare. Of course, it also embraces mobile fully, which is where it outranks others. It actually stores passwords for applications in addition to your usual web forms. Like most in this list, LastPass allows you to share your passwords with others, whether temporarily on a case by case basis, or permanently as needed.
Like all in this list, LastPass comes with a Free and Premium tier for individuals, while an Enterprise tier awaits businesses. A free subscription has limits on what devices it can sync to and whether it can store desktop application passwords. A Premium subscription costs $1 a month, billed annually.
Dashlane
Not far behind, almost tied in fact, is Dashlane. This password manager is considered the prettiest of the bunch, but that doesn't mean its beauty is only skin deep. Apart from the lack of ability to save application passwords and its absence on Linux and Windows Phone, Dashlane pretty much takes the top spot together with LastPass. One key unique feature of Dashlane is that it can automatically change, and of course remember, passwords on accounts for you, so you don't have to go through the drudgery of doing so yourself.
Dashlane's $39.99 per year subscription fee might be too hard to swallow for most, but if you're going to stick with Dashlane, it's really the only way to go, as it not only allows you to have unlimited syncs across devices but also the ability to access your passwords via the Web instead of an app.
Sticky Password
Speaking of sticky, Sticky Password is probably the oddest name for a Password Manager. But not only does it make you remember it more, it also doesn't matter if it works well. Sticky Password banks on its lineage, created by the team behind the popular (but sometimes criticized) AVG anti-virus suite. That said, that's not its only claim to fame. It is one of the very few (LogMeOnce being the other) that offer biometric, that is fingerprint, unlocking right from its free tier.
Unfortunately, its other unique features are hidden behind paid subscriptions. For example, Sticky Password allows you to sync your password across devices via your Wi-Fi network only and not through the cloud. This, in theory, would make for a more secure and more private sync. Sticky Password costs $29.99 a year but another unique feature is that it has a lifetime subscription option of $149.99. Interestingly, a portion of every subscription goes towards supporting endangered manatees.
LogMeOnce
LogMeOnce is a strange but delightful gem. Strange because many of the features that its rivals offer at a price, it gives away for free. And that's not just for the fingerprint scanner integration either. Unlimited sync? Check. Two-factor authentication? Check. Of course, there are still some features inaccessible to free users. Like Mugshot, which takes a photo of the user after a number of failed attempts at entering a master password, for example.
The one limitation of LogMeOnce is that it doesn't act as a digital wallet for credit cards and the like. Instead, you'll have to rely on the service's secure notes to key those in. And at $2 per month per user, LogMeOnce is one of the cheapest of the gang, though those users might add up.
1Password
1Password is perhaps the underdog of the group, but that doesn't mean it is any less capable. While the rest have their feet solidly on the desktop ground, 1Password takes its strength on mobile. Not only does it offers fingerprint integration, it also integrates with mobile apps, particularly on iOS, to keep passwords secure as well.
The one blemish on 1Password's face is that its only free option it a free 6-month trial. To enjoy all its features, you'll have to pay $2.99 a month, though that is only billed yearly. That comes with unlimited sync and 1 GB of secure storage for files. The subscription even allows you offline access to your passwords, for whatever reason. Sharing, however, is only found in the Family tier, which costs $4.99 a month for a max of 5 people, though you can expand it by adding $1 more per user.
The Wrap-up:
In this day and age, securing online accounts with stronger passwords is just as crucial as making sure doors and gates have proper locks. In an ideal world, we wouldn't really need password managers because we'd think of and remember those passwords ourselves. But humans have proven to be very bad, nay even terrible, at that. What is $2 to $34 a month for peace of mind?
That said, password managers might also give rise to a new bad habit, one of complacency. These days, no one is really safe from getting hacked, be it the military or, you guessed it, password managers. Of course, it would be the ultimate irony, but there have already been instances of break-ins. Thankfully none too severe.
In the final analysis, our brains should still be the best password managers. Sadly, that is far removed from reality. Until then, we'll have to settle for the best services that money, or free, can buy.