Best Buy to Offer Cheaper Xbox 360 Special Edition Bundles Starting August 1st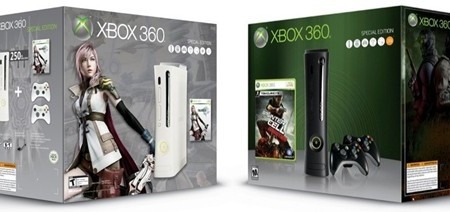 When it comes to the special edition consoles, they aren't cheap. Then again, they're special, and they include more in the box than you'd normally get in just the "stock" box. So, that makes sense. So when they go on any kind of sale, you can see why we'd get pretty excited. Thanks to Best Buy, some of the two hottest special edition consoles out there are going on a nice sale, but you'll have to act fast — it will only be around as long as units are in stock.
Beginning August 1st, Best Buy will mark down the Final Fantasy XIII and Splinter Cell: Conviction special edition Xbox 360 consoles to only $299. That's a $50 savings of their current prices (they launched at $399). As you might expect, they're trying to rid themselves of stock, and probably try and make some room for that new console that just launched, plus that whole Kinect thing that's coming out soon.
Nothing else is changing with the bundles, though. You'll still get the black or white Xbox 360 (depending on which game you want), as well as two controllers, the game itself, as well as the console and a 250GB hard drive. Considering how "not-special" the 250GB hard drive is now-a-days, we're not sure if anyone out there would actually want to pick up either of these packages. Especially considering the new console, with all of its new looks and amenities, goes for the same price. Then again, the included game and controller may be worth it, in of itself.
[via Joystiq]