Best Buy set to kill its Connect mobile broadband service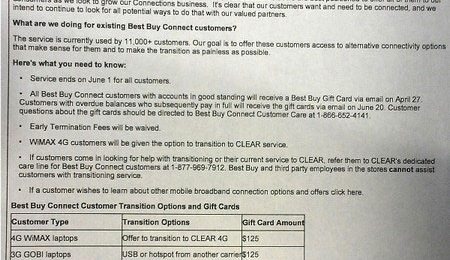 Best Buy isn't doing so well in the consumer market today and the company has been looking to shore its operations up. Recently the company ditched CEO Brian Dunn as it looks for new management. The company has also announced that it is discontinuing its Best Buy Connect mobile broadband service. This mobile service is no longer taking in-store or online activation requests.
Best Buy says that a "strategic decision" was made to shut down the Connect service and new activations stopped immediately. If you are current customer of Best Buy Connect, you may be wondering what will happen to you. The service is completely closing down, not simply giving up on new activations. The consumer electronics retailer says that current customers will be given the option to transition to Clear WiMax 4G service.
That should mean uninterrupted coverage if the user chooses that. To make up for the service ending customers with accounts that are current will be given a Best Buy Gift Card via e-mail on April 27. Customers that have past due balances and catch up will get gift cards on June 20. The value those gift card will vary from $125-$150 depending on the product the user purchased. Any early termination fees will be waived for people simply wanting out.
[via Engadget]