Best Buy sell blank disk as Call of Duty 4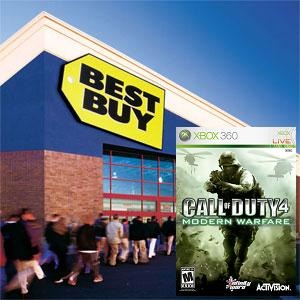 Post-purchase disappointment can be inevitable, but most people would like the opportunity to at least get bored of the gameplay when they buy Call of Duty 4.  Consumerist reader Zak picked up a (sealed) copy of the game at Best Buy, and got round the block before realising that inside was a blank disk.  Thankfully Best Buy coughed up a replacement, but not before a particularly paranoid GeekSquaddy accused him of trying to scam them.
"Yesterday I had exchanged an Xbox 360 game, 'Hour of Victory' as it was the wrong game, I wanted 'Call of Duty 4'. The girl at customer service was happy to oblige me and I was told to walk back and pick up whatever game I wanted to exchange. CoD4 wasn't on he shelf so I asked an associate walking around and she checked stock, where the title showed up in transit. She went into the back as they had just gotten a shipment earlier, and low and behold here she comes with my blessed CoD4!

I take it up front, finish my exchange and head home. Halfway there my buddy opens up this FACTORY SEALED copy and starts laughing followed by a couple choice four lettered words. I look and staring back at us out of the box is a completely virgin (even fingerprintless) disc. U-TURN! We get back to Best Buy and I walk up to the associate who had went in back for the game, this conversation follows

"Hi, I just got this here but there's a problem."

"What seems to be wrong sir?"

"Well I was wondering where you grabbed this box from..."

"Oh no, oh my God no, oh sweet Jesus was it blank?"

"Yep."

However my debacle went much smoother as the woman proceeded to exchange it without a problem...they were out of Cod4s, but I got a gift card for the exact amount and they're arriving (hopefully legitimately) on Friday. So all is well."
Apparently it was the second such mistake at the store that week, which is why the GeekSquad were suspicious.  Moral of the story is to check the contents of any box you buy before leaving the store, with a member of staff looking on just in case.
Blank disks inside Call of Duty 4 at Best Buy? [Consumerist]