Best Buy runs out of $99 HD-A2 players, upgrades customers to HD-A3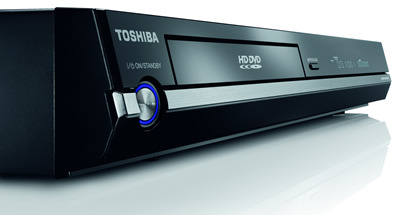 I once worked for Best Buy, so I'm more than familiar with some of their less-than-honorable practices. They've developed a rather tarnished reputation over the last few years for things like bait-and-switch tactics and constant mis-prints on their website, so it's refreshing when they actually do something nice for a change.
They recently had the Toshiba HD-A2 HD DVD player marked down to $99 (yes, the same as Walmart did). Unfortunately, they quickly ran out of stock, and many customers got stuck with a backorder notice. However, that particular player has been discontinued, so there won't be anymore coming.
So what did Best Buy do? You'd think they'd just cancel the orders and give them a $5 credit for their troubles. Instead, the customers received notices that they would be getting the HD-A3 players instead. That's not to shabby considering the fact that it's a $299 player and it comes with a couple of great free movies (The Bourne Identity and 300). Here's a copy of the notice that was sent out to customers.
Dear Valued Best Buy Customer,
You are receiving this email because you recently ordered a Toshiba HD DVD Player (model # HD-A2) from www.bestbuy.com and your order was placed in a backorder status while we awaited additional inventory. Unfortunately, the manufacturer has discontinued this item and we are not anticipating receiving any more inventory.Because we value your business, we will be fulfilling your order with the next generation Toshiba HD DVD Player (model # HD-A3) that is replacing the HD-A2 in Toshiba's lineup of HD DVD Players. There is no need for you to do anything to receive this upgraded model. We will simply fulfill your original order and your packing slip will be updated to show you received the HD-A3 and serve as your order receipt.If you are not interested in receiving the Toshiba HD-A3 as a replacement for the discontinued HD-A2, you may return the unopened item to your nearest Best Buy store or simply contact one of our Customer Service Representatives at (888)-BestBuy for more information about how to return the product for a complete refund.Please accept our apology for any inconvenience. We look forward to your next visit to Best Buy.Sincerely,

Best Buy Customer Care
Best Buy Replaces Backordered $99 Toshiba HD-A2s with HD-A3s [via dailytech]