Best Buy lowers iPhone 4 price to $50 on contract

We may receive a commission on purchases made from links.
If you've been eying the iPhone 4 for that low price point of $99 lately for the 8GB model, we have some great news. In what we are hearing is a new, permanent price drop, Best Buy is now selling Apple's 8GB iPhone 4 for only $49 with a new 2-year contract agreement. This goes for Verizon, AT&T, and the Now Network.
Checking over at Best Buy's website this doesn't appear to be a sale of any sort, and is the actual price moving forward. For those that don't need the iPhone 4S, this is a solid price and comes just in time for those back to school shoppers. This new price comes just a few days after Apple's Q3 earnings report earlier this week. Where they stated to have sold around 27 million iPhones this quarter, which was viewed as low numbers.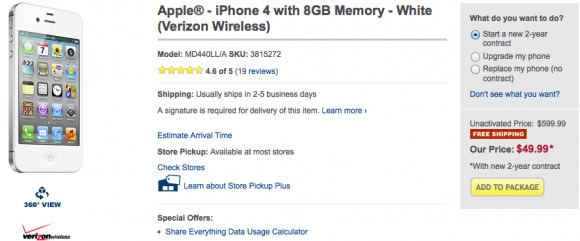 We can expect sales of the older iPhone 4 to soar a little bit with the new competitive pricing, although with all the recent rumors of the iPhone 5 (or the new iPhone) some might be waiting to see what Apple has up their sleeves. If you're eligible for an upgrade and are ready to sign a new contract, head to Best Buy and snag the iPhone 4 8GB for just $49.99 available today.
[via Tuaw]