Bentley offers more details on EXP 9 F SUV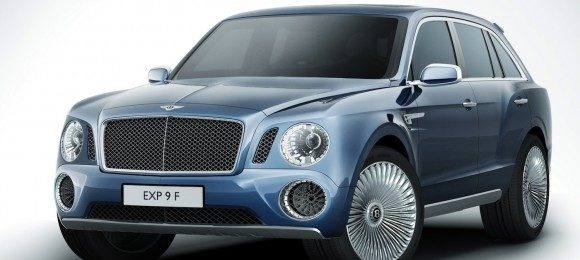 Bentley has offered up a few more details on that not so attractive Bentley SUV concept we talked about last month. Bentley gave up more details at the 2012 Beijing International Automotive Exhibition, including that the vehicle would be all-wheel drive and could have a variety of powertrains available. Those possible powertrain include a 500 HP twin turbo V8, a plug-in hybrid V6, and flagship 6 L W12 engine.
There was no confirmation given at the show that the vehicle would actually be produced, Bentley said it was a potential third model for the brand. The high-end W12 engine would produce 600 HP and 800 Nm of torque coupled with the eight-speed transmission.
It's really no surprise that Bentley is considering an SUV. Porsche already makes an SUV that sells very well, Audi has SUVs, and even Lamborghini is getting into the SUV game. You can bet if Bentley produced the SUV, it would cost well into the six-figure range. Bentley says that customer and public reaction will be investigated following the official unveiling of the concept at Geneva this year. Presumably, if the reaction is good, the car will be built.