Bentley EXP 9 F SUV concept is monstrously massive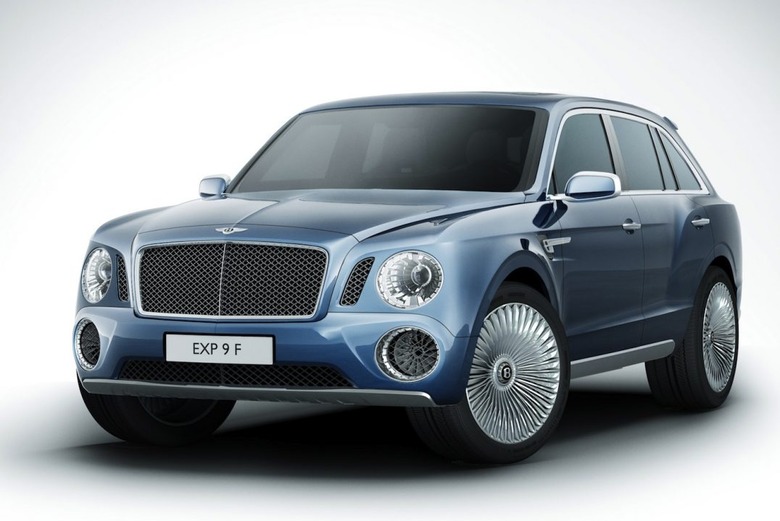 As terrifying car concepts go, Bentley's new EXP 9 F SUV Design Concept will take some beating: from the peasant-snorting grille up front to the puckered tailpipes bringing up the rear, it's a hymn to automotive excess. Revealed at the Geneva Motor Show, the EXP 9 F is described as a "potential" third model-line alongside Bentley's Mulsanne and Continental ranges, with a 6.0 litre, twin turbocharged W12 engine and 8 speed transmission shunting power through all-wheel drive, while passengers are cosseted in leather and polished gunmetal. Oh, and there's a big bird of prey, too.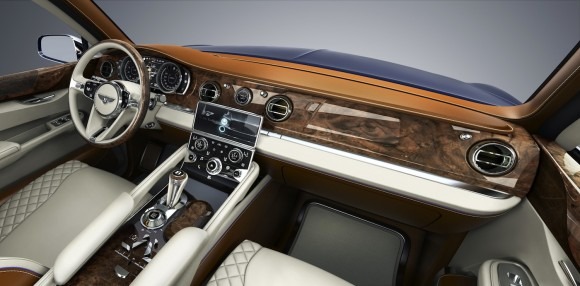 The falcon – which Bentley brought on stage as part of their concept demo – doesn't actually come with the car, as that could prove something of a distraction if it burst out of the glove compartment. Instead, you get bespoke picnic hampers in the trunk, along with a pull-out awning and a pair of concealed umbrellas.
Bentley EXP 9 F Design Concept:
Since it's a concept, Bentley hasn't been able to resist spattering it with tech, so you get a 3D dashboard – almost certain to get scolded for driver-distraction - and plenty of touchscreens, nestled in among aluminum and bronze traditional dials. The frame of the dash has been made to double as a grab handle, and the wood veneer is actually a single piece spanning the whole width.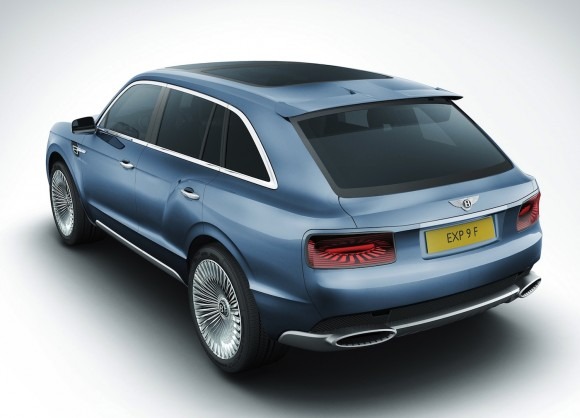 On the outside, the love-it-or-hate-it style takes Bentley's usual cues and injects a great gobful of steroids into them, with oversized arches and a grille/lighting cluster that's more like a brace of howitzers than anything else.
Bentley EXP 9 F Design Concept Reveal:
Bentley says it will be "listening carefully" to feedback from the EXP 9 F SUV's potential audience, before deciding whether to put a variant of the concept into production.