BenQ XL2410T 23-Inch LED Gaming Monitor Announced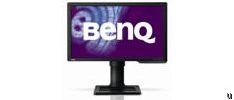 For PC gamers, spending money to get the best rig possible is all part of the game, and the adventure. Building your dream machine is the ultimate goal, and companies all over the world want to take part in your endeavor, by offering you the latest and greatest in technology. BenQ has just announced their latest effort in the display market, by unveiling their XL2410T 23-inch gaming monitor, with plenty of features packed in to make any PC gamer drool.
The 23.6-inch monitor is an LED gaming monitor. BenQ worked exhaustively with professional gaming gear manufacturer ZOWIE in just about every stage of development for the XL2410T, including the testing and development stages. Furthermore, the monitor features "gaming modes," which include FPS (First Person Shooter) mode. This mode was created with the help of Counter-Strike legends Emil HeatON Christensen and Abdisamad SpawN Mohamed. You'll find two hotkeys on the display, too, which work to change the display mode. You can switch from Full, Aspect, or Overscan. And 1:1 is included, with 17-, 19-inches; or 19-inches Widescreen to 22-inch Widescreen modes.
The BenQ XL2410T also features a refresh rate of 120Hz, and has a low input lag, to make sure that what you input correlates onto the screen and in-game faster. The display also features a quick 2ms GTG (OverDrive), which means you shouldn't perceive any motion blur, as the edge of the enemies and surroundings should be more detailed. The display is also NVIDIA 3D Vision certified and ready to go. You'll get access to Picture by Picture (PBP), as well as D-sub, DVI-D-DL, and HDMI connectivity ports. You can also alter the display's height, just in case that wasn't enough. There's no word on pricing yet, but the display is set to land in Europe at the beginning of October, and in the rest of the world at some later date.
[via FarEastGizmos]