BenQ W1500 offers Full HD wireless video streaming with 3D support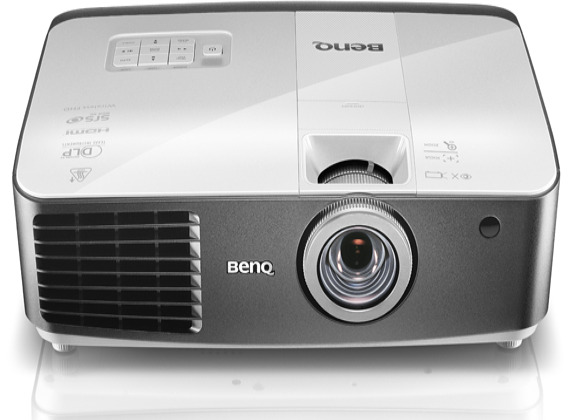 BenQ has announced a new projector, the W1500, which is distinguished from the rest with Full HD wireless video streaming and support for 3D video. The projector boasts quite a few different features, among them being the ability to project a screen up to 84-inches across from a distance of only 6 feet. The projector is available now for the hefty sum of $2,299.
BenQ boasts the W1500 as being the first-ever wireless video projector offering integrated 5GHz Wireless Home Digital Interface technology, which allows for videos to be streamed wirelessly for clean, easy systems. There's complete integration with mobile devices, as well as the use of Colorific technology for one billion colors.
Because of the use of 5GHz WHDI, the W1500 is capable of wirelessly projecting full 1080p high-definition videos uncompressed from various video sources, whether it's a laptop or Blu-ray player or mobile device of some sort. BenQ says there is no latency or quality issues over distances up to 65-feet when using wireless streaming, making it the same as using an HDMI cable.
The projector offers 2200 ANSI lumens, DarkChip3 DLP technology, and Rec. 709, enabling for dark blacks and high brightness levels. There's a 6-segment color wheel as well and frame interpolation. Picture smoothness comes from motion estimation and compensation (MEMC), and calibration achieves it an ISFccc certification. There are both day and night modes for different needs.
Said BenQ's Associated VP of Stratey and Business Development Bob Wudeck: "The W1500 brings complete wireless connectivity to all popular home theater applications, resulting in easier setup, cleaner-looking entertainment spaces, and lower installation costs. We've also included our world-leading SmartEco technology to enable up to 6,000 hours of lamp life, giving our customers access to bright picture performance, energy savings, and a lower TCO."
SOURCE: Engadget