BenQ Joybee GP3 projector comes dock-ready for iPhones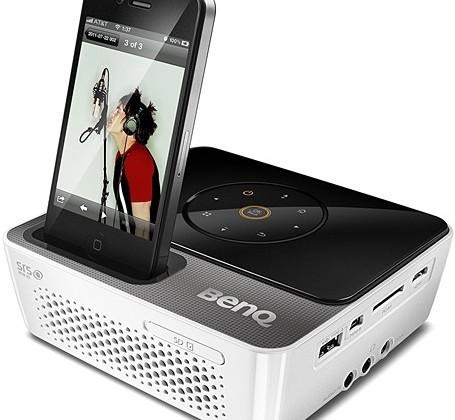 BenQ doesn't see the limelight that often, but their aim is set high. The company announced the Joybee GP3 portable projector which comes with an iPhone/iPod dock that allows users to project content that's stored on their iOS devices. There's also a new feature that can wirelessly stream content from other devices over a DLNA connection.
This new projector is the successor to the GP2, and BenQ claims it comes with improved brightness and better contrast. The GP3 can also project images up to 160 inches in diagonally, and it has a 2-watt built-in speaker, although it most likely won't do the trick in a slightly larger room, so a pair of external speakers may come in handy in this case.
Of course, though, the main new feature on this palm-sized projector is the iPhone dock (using the older 30-pin connection). However, if you don't have an iPhone, the projector offers several other ways to hook up media to the device, including plugging in a flash drive and microSD card, as well as wirelessly streaming content from another mobile device or PC.
There's also 2GB of storage tucked inside in case a flash drive or microSD card is too much for you, although that probably won't be enough for a couple of movies, but an album-full of photos would be the perfect fit. The internal battery is said to last 2.5 hours, which will get you through at least a movie and some, so be prepared to take the charger along with you. The GP3 is expected to ship later this month, but no pricing details have been disclosed yet.