Bem Begins Shipping Its Boom Box Wireless Speaker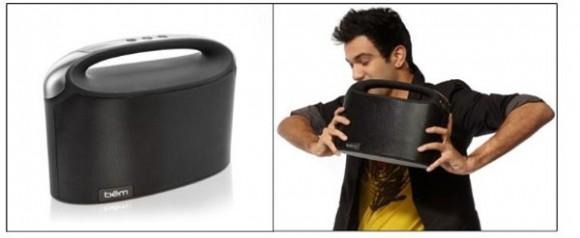 Bem is a company that makes a number of different wireless Bluetooth speakers providing audio in the home and on the go. The company has announced that it is now shipping a new wireless speaker called the boom box that reminds a bit of an old school 80s boombox. The boom box wireless speaker is designed to be portable, but can also be used in the home or office.
The speaker can connect to any Bluetooth-enabled audio device including the iPhone, iPad, and Android smartphones and tablets. The speaker has 2.1 stereo sound and promises clear audio at all volume levels. The boom box also supports devices that don't have integrated Bluetooth with auxiliary input and output connections.
The boom box has an internal rechargeable battery good for about 10 hours of playback per charge. There are indicators on top of the device that show the power level, if it is connected to the charger, and when it's connected to a Bluetooth device. The boom box does support auto pairing and has a soft touch finish.
The speaker has front and back metal casings for durability and style and has integrated controls for music. Those controls include play/pause and volume. The boom box measures 12 x 9.5 x 5-inches and is offered in black or white colors. The speaker is available right now online for $249.99.
[via Bem Wireless]