Bell Mobility HSPA device launch list leaks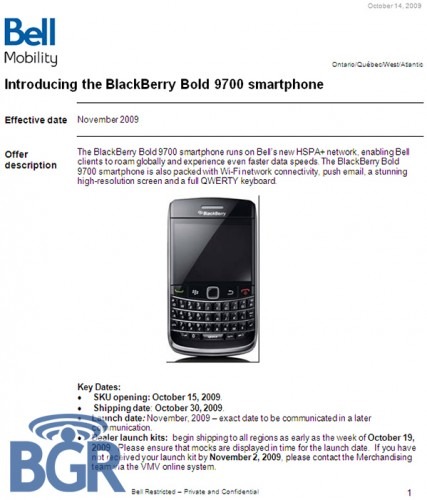 For all of friends in Canada, here is the list of leaked handsets that will be hitting Bell Mobility soon. If you have been hankering for a new mobile phone, the time may be neigh reports Boy Genius Report. Bell is set to get a slew of new handsets very soon, all with HSPA connectivity.
The list is complete with prices for 36-month contracts. I thought we had it bad with 24-month contracts here in America, Canadians are even worse off. Contract prices are followed by full retail cost in parenthesis. BGR reports that the LG Xenon will sell for $89.95 ($289.95),Samsung's Impact will sell for $79.95 ($279.95), the Omina 2 for $349.95 ($549.95), and the Apple 3G 8GB for $399.95 ($599.95).
The 16GB iPhone 3GS will sell for $499.95 ($699.95) with the 32GB going for $599.95 ($799.95). Those iPhone prices will likely be discounted further via rebates. Rounding out the list is the Blackberry Bold 9000 at $399.95 ($599.95), Blackberry 9700 at $399.95 ($599.95), Nokia 2730 at $29.95 ($119.95), and Nokia 6350 at $49.95 ($249.95). Those Blackberry devices will probably get in store rebates as well to bring the cost down further.