Belkin's Skype Phone - Silly Name, Okay Performance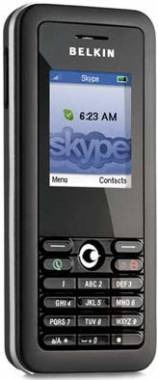 Many analysts and clever people have said that if VOIP is to take off in any reasonable form with the "common man" then it must be easy to use and easy to ask for.  Perhaps the latter is most important; after all, if you don't know what you want then it's tough to get it.  Try going into a Best Buy/PC World/any mainstream tech store and say "I want to speak down a tiny wire into an internets please and thank you" and see how long it takes them to escort you off the premises.  I've tried it, and in less than three minutes they had me face down on the cold tar-macadam of the carpack.  So while Belkin gets kudos for its WiFi Skype phone, sleekly black and uber-easy to set up, it loses at least eighty-percent of that freshly-awarded kudos for calling the handset the F1PP000GN-SK.
The fulsome fun-bunnies at Buzz Me Baby! are obviously kinder and more forgiving than I am, because despite the name they've proclaimed the Belkin phone a hit, citing its excellent voice quality when on PC-to-PC calls and the range of wireless options (802.11b and g, supports WEP, WPA and WPA2).  The only negative (which struck me as potentially a bloody big one) is a tendency to drop SkypeOut calls to mobiles and a general echoing sound quality when making calls to land-lines.  Check out their full review for the rest of the details.
Buzz Me Baby! [via I4U News]