Belkin unveils Vue, Max, and Grip iPad sleeves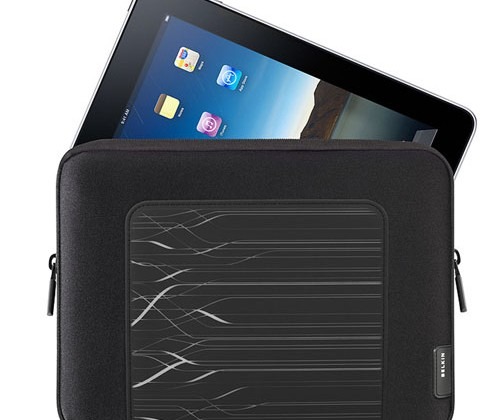 Certainly some of the biggest tech news this year has been the official unveiling of the iPad by Apple yesterday. The device looks pretty darn cool to me, though some complain the iPad didn't live up to the hype. As you can imagine with any new product coming from Apple, the accessories are coming in force as well.Belkin has unveiled its new line of sleeves for the iPad and they look pretty darn cool. Belkin will be offering three sleeves including the Vue, Max, and Grip. The Vue is transparent, has an expandable pocket for other gear and accessories, and will sell for $39.99. The Max has a pleated design and will also hold other gear and collapses flat when not in use. It will sell for $39.99 as well.
The Grip sleeve will sell for $29.99 and has a surface that increases grip to help prevent drops while on the go. The silicone of the sleeve is etched with graphics. All three sleeves come in black or plum colors. Belkin will also be offering a screen overlay to protect from scratches for $19.99.