Belkin Soundform Elite Combines A Hi-Fi Speaker With A Wireless Charger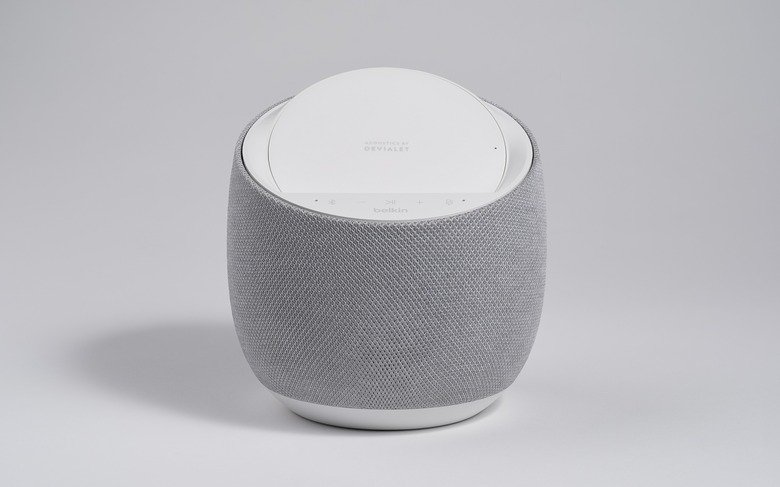 Accessory maker Belkin is probably best known for its chargers, cables, and power banks but now it is dipping its toes into a brand new market. It partnered with audio brand Devialet to develop a new audio accessory that doesn't simply connect to a speaker but is a speaker in its own right. And something more up Belkin's alley, the Soundform Elite Hi-Fi smart speaker also doubles as a wireless charger to boot.
Almost anyone and everyone try to make smart speakers these days but few are really able to deliver the balance between sound quality and smart features. It almost seems pretty ambitious that Belkin's first foray into making a speaker immediately jumps into one of the hardest speakers to get right.
That's why it teamed up with Devialet to create a speaker it boasts can pump out high-fidelity sound at a maximum of 90dB SPL volume. Devialet's Speaker Active Matching and "Push-Push" Woofer technologies are crammed into a tub-like device that also serves as a home for Google Assistant.
The top of the speaker slant inward not simply as an aesthetic design but to safely cradle smartphones that also want to charge while piping music to the speaker itself. That charger is capable of delivering 10W of power only so don't expect super-fast charging. In addition to wireless communication with Google Assistant, the Soundform Elite can also connect with other Google Assistant-enabled speakers for a multi-room setup.
The Belkin Soundform Elite Hi-Fi Smart Speaker + Wireless Charger will arrive in Spring 2020. At $299, it will be up against more tested brands and devices in the smart speaker market. Then again, Belkin is also used to that kind of tight competition anyway.