Belkin Powerhouse Charge Dock for Apple Watch + iPhone charges both at once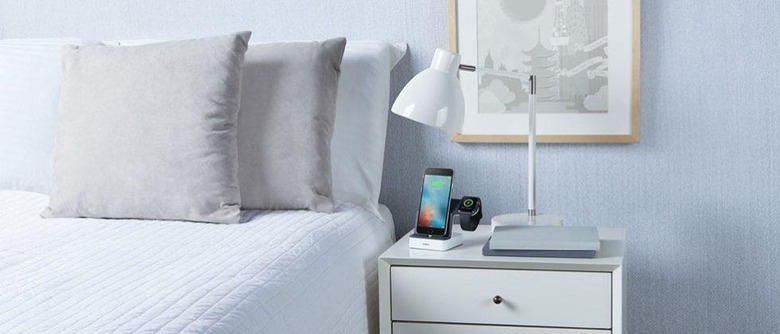 Keeping your gadgets charged up and ready to use can be a problem in an area with limited space. Everything has its own charger and those factory chargers often mean that your devices are just laying there in the way as they power up. Belkin has a new charging dock that will charge your iPhone and the Apple Watch at the same time called the Powerhouse Charge dock for Apple Watch + iPhone.
The Apple Watch charging portion has a magnetic dock and an integrated Lightning connector for the iPhone. The integrated solution is able to optimally charge both the iPhone and the Apple Watch at the same time. The dock is designed to hold the watch screen and iPhone at an angle, in an upright position making them easier to see as they charge.
Both portions of the Powerhouse charging dock are MFi certified to meet all the mechanical, stress, and electrical tests that Apple requires. "Most people who have an Apple watch also have an iPhone, so a combined charging solution just makes sense," said Melody Saffery, senior director of product management at Belkin. "The Powerhouse Charge Dock is designed with the consumer in mind – it organically integrates both chargers into its design so all you need to do is plug it in and go."
The dock will work with the iPhone SE, iPhone 6s Plus, iPhone 6s, iPhone 6 Plus, iPhone 6, iPhone 5s, iPhone 5c, iPhone 5, Apple Watch, Apple Watch Sport, and Apple Watch Edition. Power for the dock comes from a single tethered AC cable that charges both devices. The iPhone charging system will support iPhones with almost every case available installed. Power is 1A for the Apple Watch and 2.4A for the iPhone and the cable to the wall is 4-feet long. The dock is available now for $99.99.
SOURCE: Belkin