Belkin N150, N300, and N600 DB Routers Available Now, N450 and N750 DB Coming Soon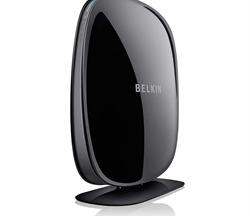 Belkin has just released a new line of high-performance routers, with Multi-Beam technology. The routers promise a larger coverage area, and some also feature an automatic data backup app. The N150, N300, and N600 DB routers are available in the US now, and start at $34.99 for 150 Mbps wireless speed. The higher end N+ router, N750 DB, will be available next month for $129.99, along with the N450 N+ router. The N750 DB and N600 DB are dual band devices, which "eliminate interference and optimize performance for bandwidth-intensive applications such as high-definition video streaming". See all the details on these devices after the cut.
Before we get to the specs of these devices, we need to have the company quote that always comes with these product releases. Ready? Here it is.
"As people add more connected devices to their home network and the demand for streaming high-definition movies, downloading music, playing games, and sending emails continues to increase, a router that can manage these connections is essential to unlock the true potential of your electronic family," stated Mike Chen, Belkin's General Manager for Networking. "Belkin's newest routers are designed to give you the strongest Internet signal at the farthest distance in your home so your devices work where you live, not where your router lives."
Ok. Now here are the specs:
Belkin N150 Wireless Router – $34.99
· Wireless speeds of up to 150 Mbps
· Wireless coverage at twice the speed of G technology
· Easy Setup and preset security
Belkin N300 Wireless N Router – $49.99
· Wireless speeds of up to 300 Mbps
· Easy Setup and preset security
· Self-Healing App to detect network problems
Belkin N450 Wireless N+ Router – $69.99
· Wireless speeds of up to 450 Mbps
· Gigabit for ultra-fast file sharing
· Self-Healing App to detect network problems
· Easy Setup and preset security
Belkin N600 DB Wireless Dual Band N+ Router – $79.99
· Wireless speeds of up to 300Mbps (2.4 Ghz) + 300Mbps (5 Ghz)
· Simultaneous dual-band operating on 2.4 Ghz and 5 Ghz bands
· One USB port for wireless printing or storage
· Self-Healing App to automatically resolve potential network problems
· Video Mover App for wireless streaming of video content throughout the house
· Print Zone App allows you to print from anywhere in the home
· Memory Safe™ App automatically backs up files to your external hard drive
· Easy Setup and preset security
Belkin N750 DB Wireless Dual Band N+ Router – $129.99
· Wireless speeds of up to 300Mbps (2.4 Ghz) + 450Mbps (5 Ghz)
· Simultaneous dual-band operating on 2.4 Ghz and 5 Ghz bands
· Two USB ports for more media sharing or wireless printing
· Self-Healing App automatically resolves potential network problems
· Video mover App for wireless streaming of video content throughout the house
· Print Zone App allows you to print from anywhere in the home
· Memory Safe™ App automatically backs up files to your external hard drive
· Easy Setup and preset security