Belkin just fixed Apple's big headphone jack problem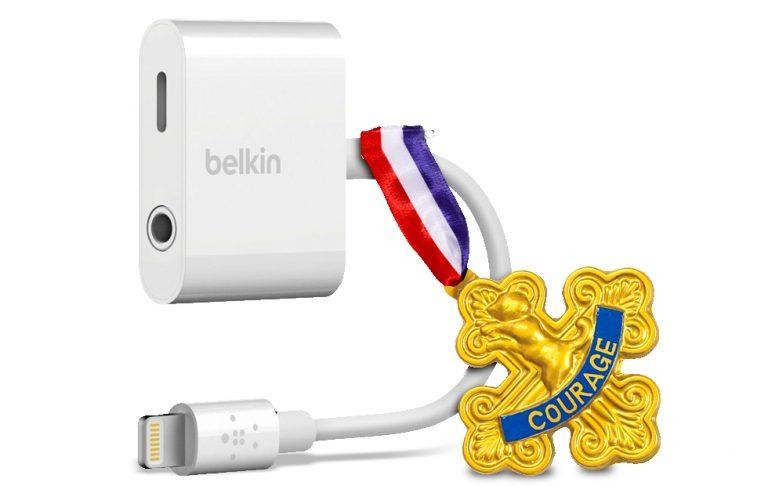 There's a dongle/adapter out there made by Belkin, a piece of equipment that's ready to engage with all the iPhones. This device is called the "3.5 mm Audio + Charge RockStar", and it comes with its own way to correct and/or fix the feature many headphone-wearing fans of Apple struggled to wrap their mind around since this time last year. This Belkin accessory plugs into the iPhone and allows the user to plug in both a charging USB and a standard pair of headphones.
"We're excited to offer yet another way for iPhone owners to simultaneously charge and listen to audio using the headphones that they know and love," said Marco Peters, vice president of product management for Belkin. "We listened to consumers who wanted a reliable way to use their existing headphones, and we took learnings from last year's Lightning Audio + Charge RockStar to deliver what people asked for and more."
SEE: Apple on iPhone's missing headphone jack: "Time to move on."
That's basically it, other than a few key details. This accessory allows the user to charge their iPhone at the same time as they run audio out through their newly-connected headphone jack. This accessory is MFi certified to work with iPhone 7, iPhone 7 Plus, iPhone 8, iPhone 8 Plus, and iPhone X – just so long as they're running iOS 9 or newer.
The jack is AUX, so you can still plug in your hard-wired car audio system, like a real DIY pro. This accessory is compatible with speakers, headphones – AUX cables of all sorts, just so long as they have a 3.5mm headphone jack. This accessory also includes remote and mic control through its headphone jack, as well as sync and media transfer through the USB port.
ALSO, OH DEAR: DIY iPhone 7 modder adds headphone jack
This accessory also supports optimal pass-through charging for the iPhone. This means that you're not going to be charging super-slow while music runs – as we've worried some accessories like this might.
The 3.5 mm Audio + Charge RockStar adapter is available starting today wherever fine Belkin products are sold. Belkin suggests that they'll be priced at around $35 from Belkin online, Apple online, and Apple stores around the world.
If you're one of the few headphone jack super-fans that drilled a hole in the bottom of your iPhone 7 to see if you could just plug in a pair and it'd work: may whatever god you believe in have mercy on your soul.