Belkin Made The Aux Cable Upgrade The Modern iPhone Needs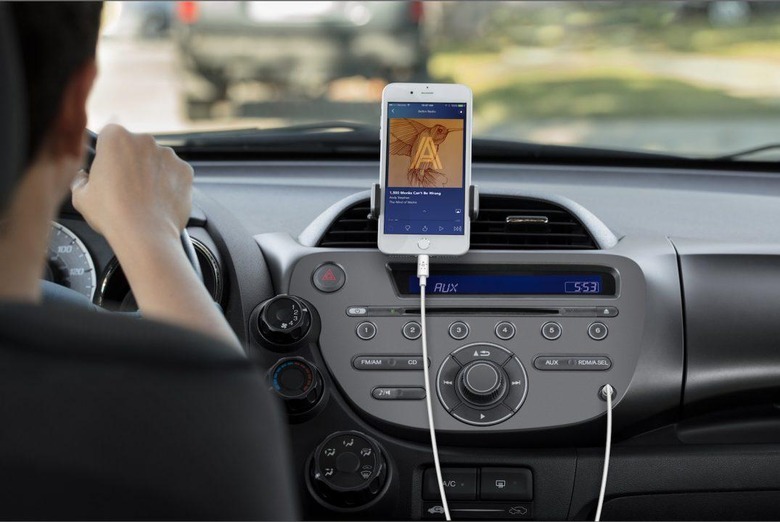 The aux cable is getting a 21st century update, with Belkin revealing its newest cord to hook your headphone-jackless iPhone up to your car's dashboard or just about anything else. Apple's decision to ditch the 3.5mm headphone jack on its more recent iPhone models prompted no shortage of teeth-gnashing, but little more so than in the car.
There, the old 3.5mm aux cable that drivers had been relying on to pipe music from first their MP3 player and then their phone was useless. That is, unless you remembered to bring the Lightning to 3.5mm adapter that Apple supplies in the box. It meant that even if your friends trusted your musical tastes enough to give you aux cable control, there was a fair chance you wouldn't be able to use it.
Now, Belkin has a new cable, and while it looks simple it's actually fairly complex. On the one end, it has a 3.5mm stereo plug; on the other, a Lightning connector. Plug both in, and you can connect your iPhone directly to a car stereo, home speakers, or anything else with a 3.5mm input jack.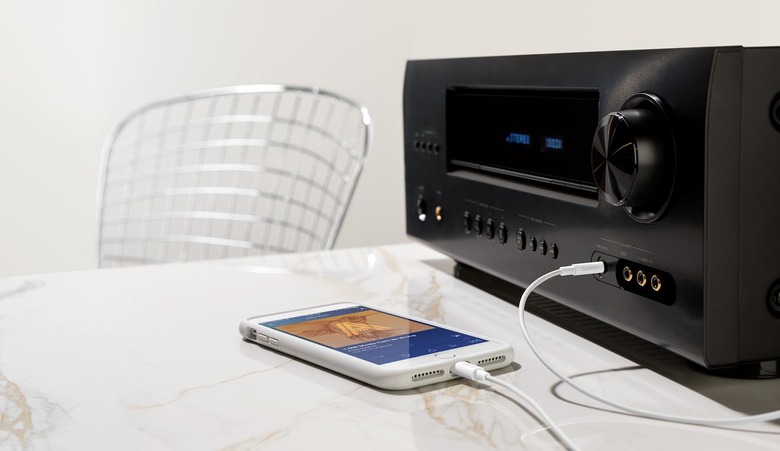 Since Apple hasn't been outputting an analog audio system from its iPhone data ports for some time, however, there's a reasonable amount of hidden complexity going on. Inside the cable, Belkin has managed to squeeze a digital to analog convertor. That takes the digital output from the iPhone X, iPhone 8, iPhone 8 Plus, iPhone 7, or iPhone 7 Plus, and converts it into something most audio equipment can handle.
Apple's decision to axe the headphone jack was a controversial one. At the time, the company argued that the legacy 3.5mm port was taking up far more space in modern smartphones than it deserved: by removing it, so the argument went, it was easier to waterproof the device, while the space could be used for larger batteries or other components, or even just making the phone thinner.
While that might be true, it also left users with a headphone issue. Those with existing headphones they wanted to keep using would have to plug in the adapter Apple supplies in the box. Anybody who was relying on a regular 3.5mm aux cable to hook up their car's audio system, or a set of existing speakers, would also need an adapter. All well and good if it's your car, and you've thought ahead, but a risk if you were hoping to play music in somebody else's ride.
Belkin's new cable, therefore, comes to the rescue, assuming you remember to carry it with you. It's MFI certified, as you'd hope, and Belkin is offering it in two lengths: 3 feet, or 6 feet. Unfortunately, with simplicity comes price. The shorter of the two versions is $29.99, while the longer is $34.99. That's a fair amount more than a $9 Lighting to 3.5mm headphone jack adapter from Apple and a basic 3.5mm aux cable.