Bejeweled Stars tries to bring franchise back to glory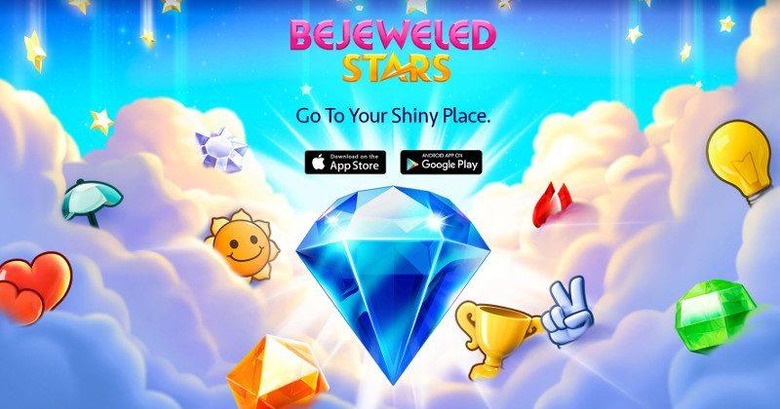 Before there were shiny sweets, there were shiny gems. Before King stumbled upon the winning formula that would eventually become Candy Crush Saga. PopCap Games was already crushing it with Bejeweled, flushing so many hours, some of them at work, down the drain. Now PopCap Games is trying to once again be the king (pun totally intended) of the "match-3" genre of games. This time, however, it is starting with mobile from the get go, releasing Bejeweled Stars on both iOS and Android, and on the same day even.
The younger generation of Facebook and smartphone users might be more familiar with Candy Crush nowadays, but Bejeweled could be credited for having contributed more to gaming history than the time and money sink that is King's game. Turning 15 years old at the end of the month, Bejeweled launched at a time when gaming still had the stigma of being mostly male and mostly hardcore. The game opened up and diversified that market, showing that anyone can be a gamer. It helped catapult PopCap Games to the forefront. PopCap Games is perhaps best known today for Plants vs. Zombies.
Despite its success, Bejeweled was sadly slow on the mobile uptake. It would take a few years before mobile versions of the title would appear, and even then they were more like ports. One was even simply a web version of the game made to look like a native mobile app. In contrast, its rivals like Candy Crush would quickly embrace mobile after making a killing on the web and Facebook.
Bejeweled Stars is now trying to recover lost time. The first game in the series to launch since 2010, Stars is, ironically, mobile first and mobile only. It adapts many of the new conventions of match-3 mobile gaming, with its own shiny spin. More like Angry Birds and less like Candy Crush, Bejeweled Stars features characters that give the game a bit more, well, character. The mechanics pretty much resemble other games in this genre, with power-ups, challenges, goals, and, of course, in-app purchases.
Bejeweled's legacy is both a shoulder to stand on and a heavy burden to bear. It definitely has a lot to catch up with and more rivals to compete with. It might be too much to expect it to be as groundbreaking as it was more than 10 years ago, but if it manages to outrank Candy Crush in a short time, it will still be a sweet and divine victory.
SOURCE: Bejeweled Stars