Behind the scenes with Kung Fu Panda: SlashGear meets DreamWorks & HP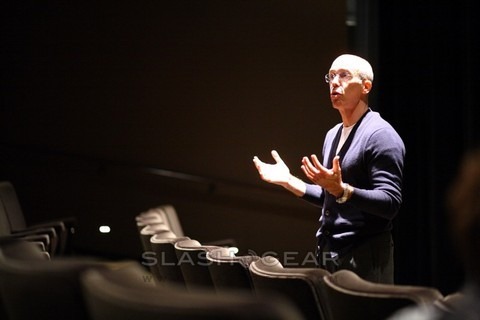 Giant dancing pandas aren't usually in the SlashGear remit, not unless they're robotic or play Blu-ray discs in their multimedia mouths, but when HP and DreamWorks invited us to see how the two companies had created the animated film Kung Fu Panda it was hard to resist.  Hitting movie theaters this week, Kung Fu Panda is the work of the same team behind the Shrek series, and stars Jack Black as voice of Po, the all-kicking, all-dancing titular bear.  While DreamWorks brought the animation talent, HP was responsible for the hardware that made sure creating the movie wasn't as slow as waiting for pandas to produce some offspring!  We're often told about how powerful today's computers are, and all that they're capable of, but we were blown away by how much processing power it takes to create a feature-length animation.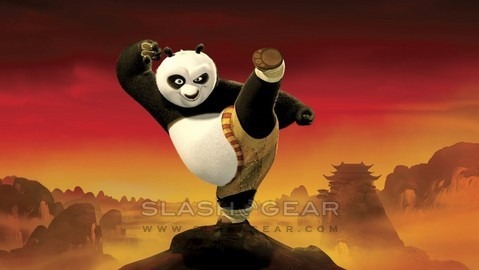 In production from Fall 2003 to Spring 2008 – a total of 4.5 years! – the film demanded 391 animation artists and, including voice talent (Kung Fu Panda also stars Dustin Hoffman and Angelina Jolie), in excess of 857,680 hours of work altogether.  Artists from around the world converged at DreamWorks two California studios, the 350 miles between them linked by HP's "Halo Collaboration Studio" video telepresence system, and used more than 400 workstations provided by the company.  Animators primarily used xw9300 and xw9400 workstations, while HP constructed a server-farm of ProLiant DL145 servers and BL465c server blades; in rendering the whole film, the farm churned away for in excess of a whopping 24 million hours, four times as many as the original Shrek film.
The reason for all that processing is the degree of flexibility DreamWorks required for the feature.  Normal film-makers can move their cameras around as much as they like, but in computer animation your system has to be able to cope with the extra 3D modelling that demands.  Kung Fu Panda utilizes the largest number of moving cameras on any DreamWorks title to date; for instance, in a scene where Po rides a spitting, sparkling fireworks chair into a stadium, it took a total of 54 different systems working together for the panda and chair effects alone.  When Po goes on to blow the chair up with fireworks, the explosion requires 953,593 individually-animated particles.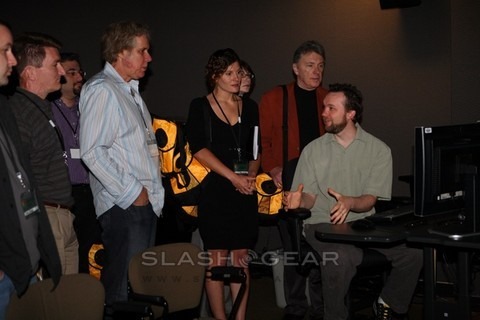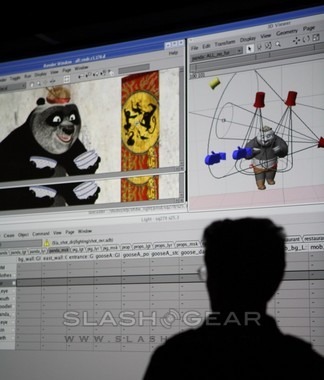 We had an opportunity to sit down and talk about the animation process, and being fans of traditional cartoons it was good to see that paper-based pitches are still very much part of things.  Multiple storyboards are produced – unsurprisingly using HP color printers and scanners! – and then the artists create preliminary 2D choreography on the computer systems.  What particularly pleased them, we found, was the new ability to work on multiple shots simultaneously courtesy of the extra CPU cores and upgraded memory of the HP machines; the xw9400 proved, in some tasks, to be 50-percent faster than its predecessor.  The 2D is then rendered into CGI courtesy of Animation running on the server farm.  In a cute tradition, every time a scene was finalized the animator responsible was given a fortune cookie with a customized fortune inside.
We were lucky enough, along with the group of journalists and industry analysts, to be treated to a pre-release screening of the film, and all I have to say is WOW!  We're not film reviewers (they don't usually have enough USB ports for our liking) but despite the average age in the room being way above the audience DreamWorks are expecting there were plenty of laughs and the visuals are top-notch.  HP may have been more excited about their quad-core BL465c blades with dual-gigabit networking and space for up to 32GB of RAM, but we can guarantee that you won't be able to miss Kung Fu Panda and its tie-in marketing over the Summer.  DreamWorks tried to tell us that Po's "Panda Dance" is easy to learn, but we'll leave it to the kids; there are only so many times you can stumble into a ProLiant server before you get escorted from the premises!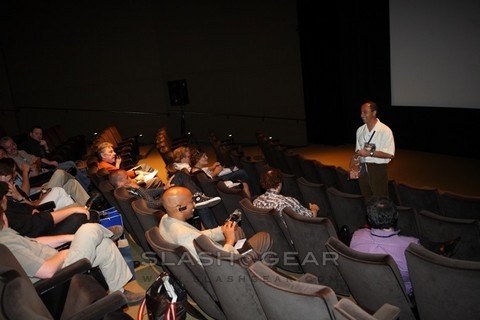 Kung Fu Panda by DreamWorks is released on Friday June 6th at theaters all over the US.  You can find out more about the film by visiting the official website, and more about HP's involvement here.  Click to view the rest of the image gallery.Kung Fu Panda Behind the scene video