Behind the scenes of the Google pumpkin doodle for Halloween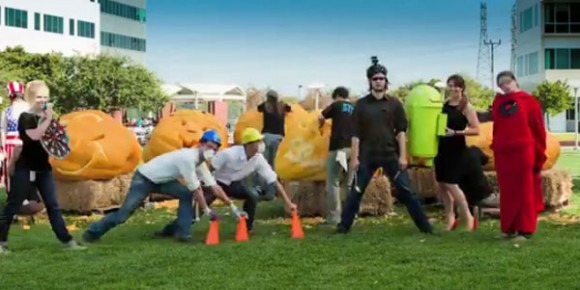 The grossest part of Halloween for me is the pumpkin carving. It's fun for sure, but scooping all the guts out of the pumpkin isn't fun for me. It also seems that each year our pumpkins last only about a day once carved before they are a collapsed gooey mess on the front porch. Google is infamous for its doodles that replace the logo on anything remotely resembling a holiday or special occasion and it has one up for Halloween today.
The team used
sitting on pallets with hay bales. The largest of those pumpkins weigh well over 1000 pounds. I would assume that is the reason for the hay and the pallets, these fat beasts would have needed a forklift for delivery. It took eight hours for the team you see in the video to carve the pumpkins. The first video at the bottom is a time lapse of the eight-hour process.
If you look closely, you can see glimpse of some of the Google folks strutting by in costumes. The finished pumpkins have faces cut to look like the letters in the Google name naturally. The second "G" is my favorite pumpkin. Check a behind the scenes vid too along with the time lapse below.