Becker Z100 Crocodile for super-snappy GPS navigation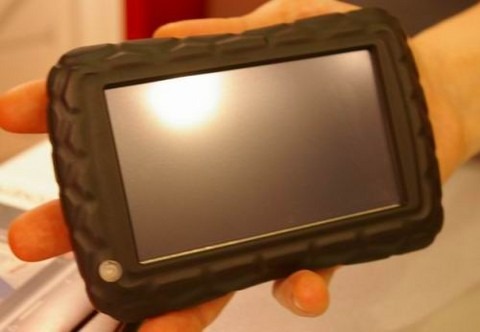 It may look like an Urban Assault Chumby, but this rubberised device is actually Becker's latest GPS.  The Z100 - nicknamed 'Crocodile' because of its apparent scaling – has a 4.3-inch wide-aspect touchscreen and full European mapping stored on a 2GB SD card.  Mapping data is provided by Navteq.
The SiRF Star III GPS receiver chip has been coupled with SiRF's InstantFixII functionality, meaning faster satellite acquisition times based on predictions of where they will be in the sky.  The Z100 also has an RDS/TMC Premium receiver for live traffic information and re-routing.
Running Navigon's 3D RealityView software, the Crocodile can display a split-screen picture showing the general map and a close-up of the upcoming turn on the same page.  Buildings and other landmarks are also displayed.
Becker are yet to announce availability or pricing details.
[via NaviGadget]