Beautifully stained teacups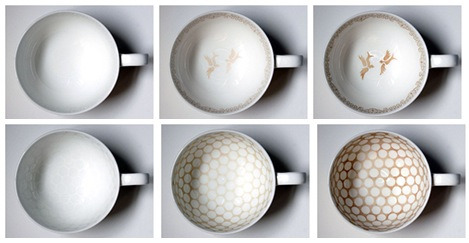 For those of us who do drink tea, we all know about that infamous stain that they create on the inside of the cup. This is extremely frustrating when you really love that teacup. Now there is a new creation that makes the stain only show up in certain places and create a design; over time as your stain becomes darker and darker so does the design.
Now I know a lot of you don't drink tea, but I've always thought of it as a lost art. Then again I think chocolates are a form of art too. Although, I am curious about one thing, if she can make it so it doesn't stain some parts and stains others, why can't she make it so the whole cup is stain free?
If you would like to get your hands on one of these cups all you have to do is email the creator, I'll probably be sending one out to her myself.
Stain Teacup: Age is beautiful? [via Gizmodo]