Beats Studio3 Wireless review: Eliminating the noise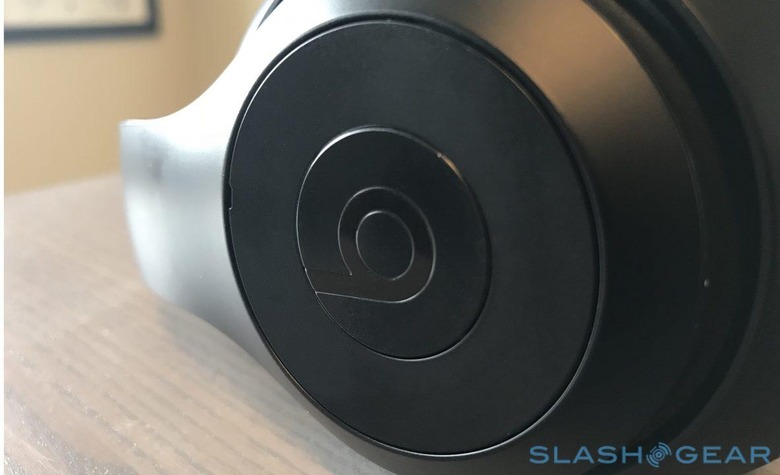 We may receive a commission on purchases made from links.
Beats, the Apple-owned lineup of audio hardware, has produced what might be their finest headphones to date. The Studio3 Wireless are (as you may have guessed by now) wireless, have noice cancellation and the Beats styling and sound profile many have grown to know and love. It's not the first time the company has put all these features together in the same package, so how does the latest iteration hold up to scrutiny? We put a pair through their paces.
Hardware
It's hard to find new things to say about Beats Studio headphones. The overall style hasn't changed; the company changed things from version one to two, but has kept the same profile for both Studio and Studio Wireless since. They're over-the-ear cans with minimal interruption save for a band where the headband extends and the familiar 'b' on the side of each earpiece.
Everything is padded, too. The headband is sleek, and perhaps a touch slippery on the hair even though it feels sticky. The earpieces themselves are padded around the outside, and about the most comfortable I've tried. Beats has changed some stitching and padding materials to make the earpieces more comfortable. As expected, the shell is plastic. The hinges and extension arms inside are metal.
One side has controls for volume or playing/pausing tracks. The same controls also work for calls (volume and call accept/hang-up). The controls are on the earpiece discretely marked 'L' for 'left,' but I found the slight tilt of the earpieces to be comfortable the other way as well. The opposite earpiece discretely hides the power/pairing button.
The Beats Studio3 Wireless come with a hard case, which is great for travel. There's also a wired audio cable and micro-USB for sound and charging, respectively, but more on that in a minute.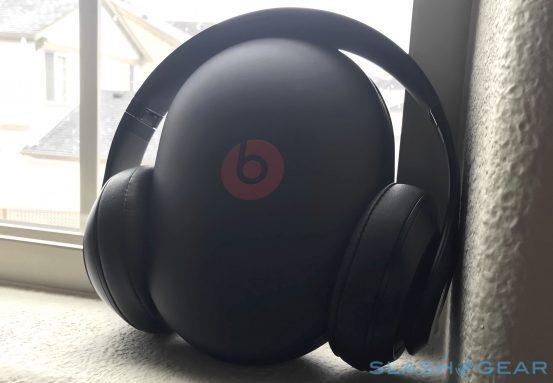 Sound and noise cancellation
Because the company was co-founded by Dr. Dre, people associate Beats with bass-heavy music. It still excels there. To my ears, previous Beats headphones lacked range. Bass was a bit muddy, and treble was muted. I listen to quite a bit of bass in my music, but at this price range earphones should be able to handle just about anything.
Studio3 Wireless can. I waffled through Mozart, The Game, Daft Punk, Lady Gaga, Katy Perry, Kanye West, Future, Queen – and even ventured into the wasteland of country music (all for you, dear reader). I compared the Studio3 Wireless to Bose's impressive Quiet Comfort 35, and found them to be comparable. Sound is subjective, but I consider them of the same ilk. Bass is much crisper than previous versions, and everything has a more fluid flow.
Noise cancellation arrives via Beats' "Pure Adaptive Noise Cancellation" (Pure ANC) firmware. Here's how Beats describes it:
Pure Adaptive Noise Canceling (Pure ANC) actively blocks external noise around you while considering both the environment you're in and the fit of the headphones, while real-time audio calibration preserves clarity and audio fidelity.

This is a truly incredible sound solution that automatically responds to your ambient environment, individual fit, and music playback continuously as you listen. Soft over-ear cushions provide added noise isolation to further preserve the integrity of your sound.
Also:
Pure ANC uses advanced algorithms to continuously monitor your listening environment, so that it can best block out ambient noise — not only on an airplane, but also in a noisy café or a busy office. Pure ANC also evaluates fit and adjusts for leakage caused by hair, glasses, different ear shapes, and head movements as you go about your day. Pure ANC simultaneously checks what you're hearing against the original music content while noise canceling is applied to adjust and ensure optimal audio fidelity. Remarkably, this real-time audio calibration operates up to 50,000 times a second. The power and efficiency of the Apple W1 chip mean that all of this can this happen automatically, while still preserving a 22-hour battery life.
The reason for all the copy-paste about Pure ANC is it's really good. I sit in front of two LG 5K monitors all day, which get remarkably loud (I typically have them at about 15 percent volume for normal listening). I turned on Beats 1 Radio via the iPhone, then cranked two disparate YouTube videos on full blast via the monitors. That's radio via the phone and Beats Studio3 Wireless (at a comfortable listening volume), and two monitors blasting full sound about two feet away.
I couldn't hear a thing the monitors were producing. In toggling the sound on the monitor, I could identify the Studio3 Wireless headphones were adjusting tone and pitch of my music to block out ambient noise, but they didn't get louder to drown it out. I also never heard the monitors. When I took the headphones off, it was clear the monitors were insanely loud.
The same can be said for nearby construction. Building new homes in my neighborhood means I can hear various equipment and workers all day. Normal headphones or sound drown that out, but I took Beats Studio3 Wireless to the construction area while on a walk. Nothing. Two box fans on full blast on either side of me? Still just Kanye blithering on about being famous.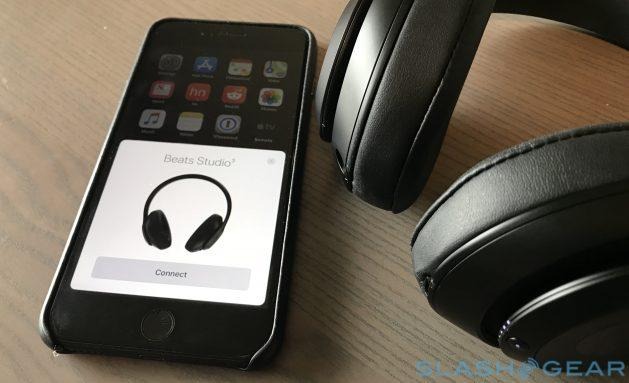 The give and take of Beats and Apple
The W1 chip is the same Apple included in its AirPods, and it's a revelation. I'll admit I think this is where Apple is taking Bluetooth, so adding it to as much of its hardware as possible makes sense for always-connected lifestyles. But how much of Beats is Apple?
The W1 chipset is there, but why am I using micro-USB to charge the Studio3 Wireless? BeatsX, the company's wired earbuds, uses Lightning. We could once forgive the inclusion of micro-USB as a legacy holdover during an acquisition grace period, but these have been produced completely under Apple's watch. If not Lightning due to some reluctance to be proprietary, add USB-C.
Bouncing off the W1/Lighting argument, there's no audio-to-Lightning dongle included with the Studio3 Wireless. I respect the inclusion of an audio cable for wired listening on professional equipment, but I just can't see why there's no dongle for wired iPhone listening (and those get lost, so Apple should be doling them out with every purchase). Apple clearly wants Beats buyers using them with iPhones, so what gives?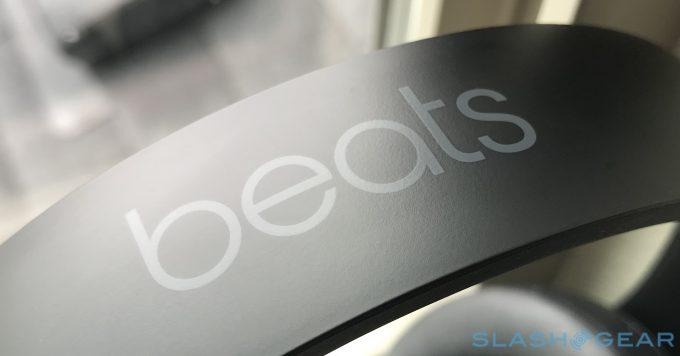 Conclusion
Two years ago, the argument for and against Beats was cultural. It was more status symbol than really solid headphone. Athletes, celebrities and neighborhood show-offs draped them around their necks like jewelry. To many, the sound they produced paled to the competition. Those who consider themselves audiophiles looked elsewhere.
Now Beats has substance. I was never a fan, but the sound the Studio3 Wireless spits out is really clean and robust. If you're one to toy with the EQ on your device, it gets better. Pure ANC clears just about everything up in even the noisiest environments. These are the first headphones I've owned which make me confident they can fully drown out ambient noise on an airplane or the clinking of a subway rattling about.
Beats promises 22 hours playback with Pure ANC on, and fast-charging tech that gets you three hours of playback with a ten-minute charge. Toggle Pure ANC off and you get 40 hours of music playback.
At $349, Beats Studio3 Wireless are competitively priced. Considering the full spec sheet, they're on par with Bose and other manufacturers' excellent hardware options. If you're an iOS user, the W1 chipset is a spectacular pairing experience; literally turn the Beats Studio3 Wireless on next to your iPhone and they sync instantly. When you turn them on later, the pairing is also instantaneous.
With six color options to choose from, Beats is holding onto its stylistic roots. Adding a bit of musical muscle inside helps even the most critical amongst us consider them as proper higher-end headphones. Pure ANC is really good, maybe even the best noise cancelling tech I've tried.
If you're in the market for some very nice headphones, give the Studio3 Wireless a look. My experience has been great, and I've been dismissive of Beats for some time. But now that the sound and noise canceling experiences have improved, they may just be the first brand I consider in the future.