Beats Powerbeats 3 Wireless Earbuds Arrive: Four Key Features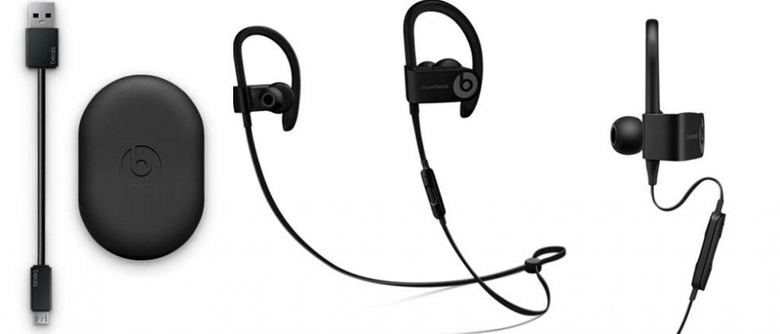 Beats has launched the new Powerbeats 3, a pair of wireless earbuds designed for those who plan to wear them rain or shine. This newest Beats model is both sweat and water-resistant, meaning you can wear them while exercising or during a light drizzle. They're also wireless, removing the cable tether, but with a design meant to keep them firmly in your ears. Deliveries start November 1.
They're water and sweat-resistant
The newest Beats earbuds are designed with mobile people in mind. Not only do the Powerbeats 3 feature over-the-ear hooks to keep them firmly in place, the model is also resistant to water and sweat. You can wear them while jogging, riding your bike, or just outdoors in general, and not have to worry about stowing them away when moisture makes an appearance.
You get 12 hours on a charge
Battery life can be hit or miss when it comes to wireless earbuds, as the batteries tend to be quite a bit smaller than what you get in larger over-the-ear headphones. Still, the Beats Powerbeats 3 manage to pack up to 12 hours of run time per charge thanks to Apple's W1 chip, meaning they'll be able to get most people through their workout, work day, or school day without having to stop and recharge. Assuming you do have to recharge, though...
Fast charging means no long waits
That's right, you can fast-charge the new Powerbeats 3, with Beats saying that five minutes on the charger gets you an hours' worth of battery life. This feature is called 'Fast Fuel,' and it addresses one of the largest criticisms regarding wireless headphones: that the battery may die before your day's over, leaving you without your audio. Fast-charging obviously eliminates that worry by allowing you to top off the charge with only minimal inconvenience.
You can take hands-free calls
Finally, the new Beats earbuds feature RemoteTalk and an integrated microphone, meaning you can activate Siri, answer calls, and control your music without having to pull your iPhone out. Sound great? Powerbeats 3 are available to buy now from Apple, which lists the shipping date as being November 1 at the earliest. Price is $199.95 USD.