Beastly NVIDIA GeForce GTX 590 release dated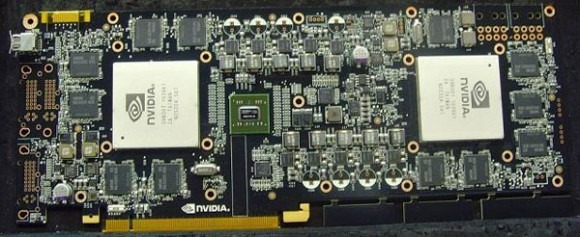 AMD was originally tipped to be waiting on NVIDIA's GeForce GTX 590 to arrive before launching the Radeon HD 6990, but the company pulled the trigger on the "world's fastest graphics card" earlier this week. That leaves the coast clear for the GTX 590, which according to Expreview is scheduled to arrive on March 22 2011.
That puts the GeForce GTX 590 just two weeks away. The video card is expected to have dual GF110 GPUs, with a total of 1024 CUDA cores paired with 3GB of GDDR5 memory. Twin 8-pin power ports help the NVIDIA card gulp down its 375W TDP.
NVIDIA will no doubt be hoping to take AMD's crown before it's had a chance to settle on the HD 6990's head, and the company could be using gaming to do that. March 22 is also the expected launch date for Crysis 2.