BBM update for iOS hits wi-fi iPad, brings Android battery fix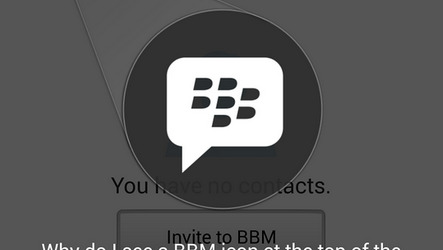 BlackBerry Messenger – or BBM – has been updated today to include a list of fixes and feature additions for Android and the inclusion of a couple new devices for iOS. This new version of BBM works with the wi-fi-only iPad now as well as the iPod touch where the first version did not. This update adds Android abilities to do things like sharing a BBM PIN and PIN barcode to social networks.
The iOS version of BBM has been released today less than 24-hours after we were told by BBM's Andrew Bocking that it'd arrive for both the wi-fi iPad and the iPod touch. This version does not explicitly change in size or layout for either device, instead sticking with the same setup as the original no matter the screen size of the machine
NOTE: If you're experiencing problems with the iOS version of BBM today, it's because the newest version of iOS – also released today – messed it up. According to CrackBerry, the BBM team is in the midst of fixing it all up, and blames the fact that the font Helvetica Neue Italic was removed in iOS 7.0.3 for some reason or another. Strange stuff!
For Android you'll also find that this version of BBM – 1.0.2.83 adds BBM contact categories and list sorting and filtering for BBM Groups. This update brings a "tell your friends" feature that pushes connections between friends already signed up for BBM, and addresses a couple of bugs that'd been present before now.
This android version brings on an issue "where some users were experiencing higher battery use" in the Android universe. It also adds general bug fixes and performance improvements across the board – have at it!