BBM private beta for iOS and Android rolling out today

We can't say we're too surprised, but BlackBerry seems to be sending out beta invites for a select number of users in order test BlackBerry Messenger on iOS and Android. The invites are rolling out today, and if you're thinking about joining in on the beta fun, it looks like you're a bit too late, as they're now closed.
According to BlackBerry-focused website BlackBerry OS, the Canadian company is beginning the beta period on BBM for iOS and Android, which means that a final release for the chat app shouldn't be too far away at this point, as CEO Thorsten Heins says that it'll be arriving sometime this summer.
BlackBerry OS also got their hands on a set of screenshots for the BBM app on Android and iOS from BlackBerry Beta Zone members. These show off the user interface of the chat app, which don't look too different what we've seen in the past from BBM, except for a few changes here and there to accommodate the specific platform it's running on.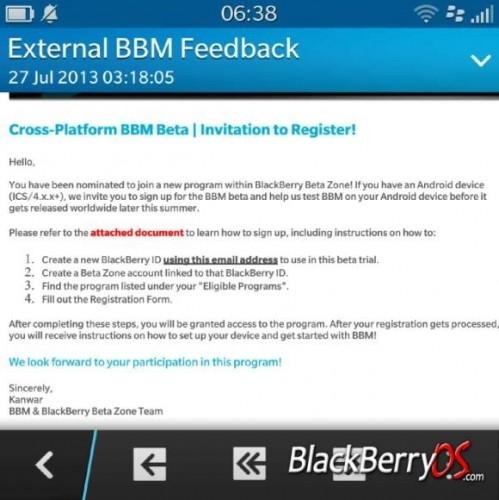 BlackBerry announced back in May that its popular messaging platform would be coming to multiple platforms, including iOS and Android on top of BlackBerry. Heins says the final release would be coming before the summer's end, and it's getting pretty close to that deadline, which makes us think that the company will release the app at the last possible minute before we could call it a delay.
VIA: Android Community