Battlefield 1 trailer revealed with WWI-style madness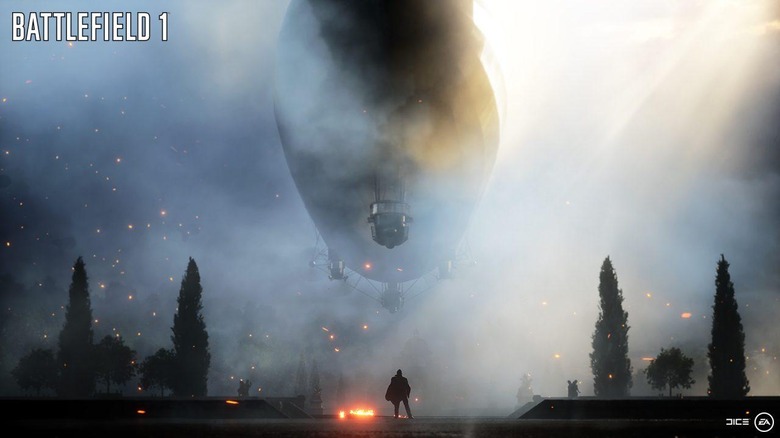 This morning the folks behind the Battlefield series have brought a trailer for what might be their most ambitious project yet. This is Battlefield 1, so called – sort of – because it takes place during World War 1. This isn't the same WWI you've been taught about in school, however, it's a sort of alternate dimension where oddities can happen. This is what they call the "Dawn of All-Out War". We're looking... a bit... forward to it.
This would appear to be one of the only places where Jack White would allow his music to be used – and subverted – especially fitting due to the super strange bending of the rules inside the game. Watch what's happening here in the trailer first, and know your enemy. Or see if you can figure out which people are you enemies, and which ones aren't.
With the trailer – at the reveal of the game – comes two versions of said game. One is the Battlefield 1 Early Enlister Deluxe Edition. This edition includes "Hellfighter, Red Baron, and Lawrence of Arabia packs" with themed weapons and gear. These three packs are joined by five "extra" Battlepacks that are yet to be named.
This special edition will be delivered to users three days before regular release. That'll be October 18th. Normal users will get access on the 21st of October.
This special edition will cost you a cool $79.99 USD, and will be delivered to PC through Origin and Xbox One through the Microsoft Xbox store and to PS4.
The Standard edition is only available for pre-order now for PC on Origin and Xbox One. PS4 seems to be missing.
Above you'll see a gallery of massive images you can use for wallpapers – or just to peruse at your leisure.
This game will have multiplayer battles with up to 64 players.
You'll be able to play as Infantry.
You'll be able to play driving a tank.
You'll be able to play helming a boat.
You'll be able to play flying a bi-plane.
You'll be able to play riding a bike.
Or driving a bike, we're not sure yet.
This is a real Battlefield game.
It's going to be epic.