Battleborn open beta hits PS4, Xbox One in April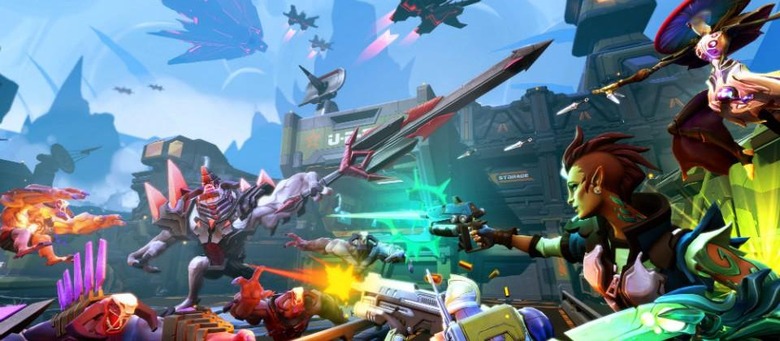 Borderlands developer Gearbox has announced the details on an open beta for its next big shooting game, Battleborn. Starting in April, just under a month before the game's full release, PlayStation 4, Xbox One, and PC players will be able to try out all the characters and a wide range of gameplay types. The best part is that the beta will be truly "open" to everyone, with no requirements for a pre-order or even Xbox Live/PlayStation Plus subscriptions.
Those on PS4 can grab it first, starting on April 8th, while Xbox One and PC players will need to wait until April 13th. The beta is said to be over 8GB in size, and everyone gets to play until it closes on April 18th, regardless of platform. The full game will be released on May 3rd, so those that enjoy the beta won't have long to wait for more time with Battleborn.
The beta will include two campaign "episodes," or story missions, along with two competitive multiplayer modes. 7 characters will be available at the start, with the remaining 18 unlocked as progress is made and players rank up. Story episodes can be played with on-line co-op supporting up to five players, local co-op for two via split screen, and solo.
Gearbox has also explained that it's taking an episodic approach to Battleborn, with the full game's prologue and eight episodes consisting as a "season." Each episode will tell a story that will be different depending on which character players are using, and combined with their different abilities and fighting styles, should offer plenty of replayability.
Post release DLC is scheduled to include additional characters as well as more story episodes. Five add-on packs have been confirmed thus far, with each one including a new episode, and content like character skins and taunts, priced at $5 individually, or as a season pass at $20 for all five.
SOURCE Gearbox