Batmobile replica is street-legal with working flamethrower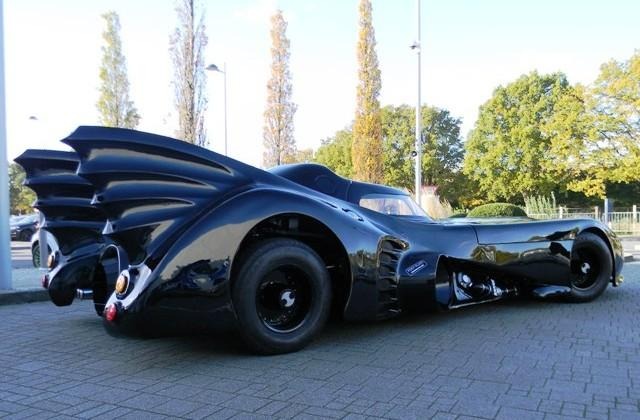 A fully functional replica of the Batmobile from the 1989 Michael Keaton Batman film will be going up for auction Nov. 30. Many replicas have been made of the various models of Batmobile, but none with quite this level of authenticity. For starters, the flamethrower, afterburner, nine-inch-rise hydraulics and remote start all work. Oh, and you can drive it on actual roads if you want.
Viewing will begin Nov. 29 at 10AM, the day before the auction. It is expected to fetch at least £90,000 ($150,000.) The listing at Historics at Brooklands in London:
It comes complete on a bespoke chassis and powered by a straight six, fuel injected modern Jaguar 3.2 litre engine with automatic transmission. Special crime fighting gadgets include a fully operational flame thrower at the rear, hydraulic suspension enabling the car to be lifted a further nine inches off the ground, a smoke release mechanism, remote full releasing electronic canopy, remote ignition and full LED running lights, dashboard display and front and rear camera's complete the specification. This vehicle is believed to be one of the best after-production, fully road-legal models ever made. The mileage is particularly low as it has mainly been transported from venue to venue and is described by the vendor as in excellent running order.
The "Keatonmobile" will appear with 137 other classic and custom cars at the auction, which will be held at Mercedes-Benz World. Historics gives you a little taste of the looks and handling of the Batmobile (and the afterburner!) in the video and gallery below.
What do you think are the chances you'd never have to worry about getting cut off in traffic while driving this bad beauty?
SOURCE: The Verge