BASF and Philips working car roof made from transparent OLED lighting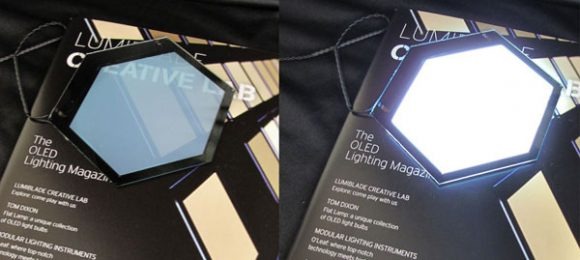 BASF and Philips are working together on a really cool project that uses OLED lighting for the roof of a car. The OLED light can be a light source to illuminate the interior of the car at night. When turned off the light source can also be a transparent solar cell that allows passengers to see out while gathering power. When off the OLEDs are clear so the people inside can see out of the car.
The organo-chemical materials like dye that are used in the lighting are made by BASF, and the OLEDs are manufactured by Philips. The transparent OLEDs can be turned into a solar panel by sandwiching them with transparent solar cells. The entire surface of the OLED light can produce a soft light with no harsh shadows.
That would make for nice illumination at night in a car when bright light can affect night vision. There is no indication of when this lighting might find its way into production automobiles. I could see this sort of thing being nice in EV and hybrid applications for gathering power for batteries.
"This combination allows the driver to enjoy a unique open-space feeling while it generates electricity during the day and pleasantly suffuses the interior with the warm light of the transparent, highly efficient OLEDs at night," said Dr. Felix Görth, head of Organic Light-Emitting Diodes and Organic Photovoltaics at BASF Future Business GmbH.
[BASF via Electronics Weekly]