Barnes & Noble nook v1.2 firmware out: "noticeably faster"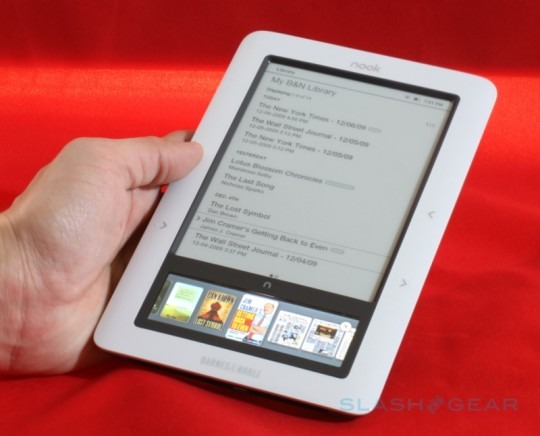 An over-the-air update for the Barnes & Noble nook has begun to go out today, and according to at least one user with the updated firmware it leaves the ebook reader "noticeably faster" at loading pages, while the touchscreen interface "seems more responsive".  nook firmware v1.2 also improves the general UI of the ereader, with clearer indications as to which ebooks can be lent to others, and more ways to sort side-loaded documents.
Meanwhile battery optimization has apparently also been done, and – even more important to regular readers – the nook will now save the currently-reading page and bookmarks when powered off.  Previously, power-cycling the nook could leave you having to re-navigate to where you'd left off reading.
What would've been nice to see was more flexibility in the underlying Android OS, for instance allowing web browser access.  There doesn't appear to be a way to prematurely trigger the nook v1.2 firmware update, so owners should simply wait until it's flagged up on their devices.
Change-list:
Enhanced in-store seamless connectivity to enjoy free Wi-Fi, with More In Store content promotions exclusively for Nook owners
Improved opening of eBooks and ePeriodicals
Improved response to Reading Now and Settings buttons
Current reading page and bookmarks on all eBooks are properly saved when you power your Nook off
Eligible LendMe eBooks in your library have LendMe flags
Easier navigation of daily subscriptions with issues rolled into one folder
Improved "back" button functionality for navigating eBooks and ePeriodicals
Personal files downloaded and displayed in My Documents can be sorted by author and title
Overall system improvements and battery optimization.