Barnes & Noble NOOK for Android released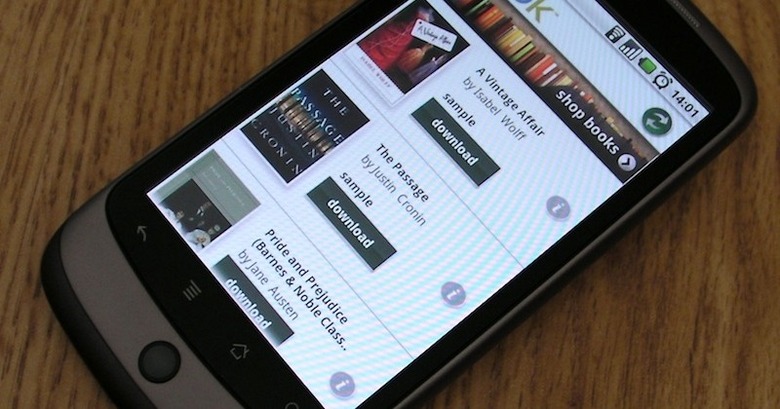 Barnes & Noble has pushed out their promised NOOK app for Android, synchronizing ebook content across from the company's standalone ereader together with their existing software readers, together with allowing access to the B&N eBookstore.  NOOK for Android – a free download from the Android Market or available at www.bn.com/nookforandroid also automatically takes you to the page you last read (though not if you're using the iPhone client).
There's also LendMe support, multiple fonts, font sizes and page orientations, and a choice of page turn animations.  Meanwhile B&N plan to rename their current eReader apps on other platforms to fit with the NOOK brand, including the standalone readers and the NOOKstudy app.
You'll need an Android 1.6 smartphone or higher to install NOOK for Android, and a B&N account to use the eBookstore and sync your existing content.  Alternatively the app is compatible with regular ePub texts. Update: Barnes & Noble has been in touch to point out that, while the new NOOK for Android app supports ePub texts download from the B&N eBookstore, it doesn't currently support other ePub files (i.e. such as may have been sideloaded onto your phone).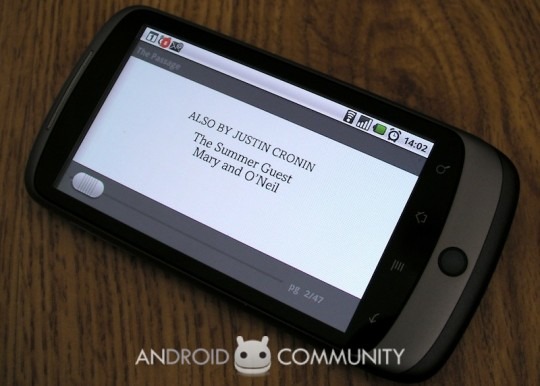 Press Release:
Barnes & Noble Introduces NOOK™ for Android™ – An Easy-to-Use Free eReader Application for Android Devices

Announcement Marks Shift to Consistent NOOK Branding Across Barnes & Noble eReading Offering

New App Gives Android Users Access to the Barnes & Noble eBookstore with More than One Million Digital Titles and Personal B&N Digital Library

Only Android eReader Application to Offer eBook Lending

New York, New York – July 22, 2010 – Barnes & Noble, Inc. (NYSE: BKS), the world's largest bookseller, today introduced NOOK for Android, a fun and easy-to-use Barnes & Noble eReading experience for those with Android-based smartphones and devices. The new application is the latest addition to Barnes & Noble's slate of free, popular eReader software and the only Android eReader application offering the ability to share eBooks with friends.

The new Android app is also the first eReader software to feature Barnes & Noble's new NOOK-centric branding, leveraging the strength of the company's NOOK brand across its entire eReading offering. NOOK for Android will soon be followed by an updated NOOK for iPhone®, NOOK for iPad™, and others in the coming months. The new eReader software branding aligns with the company's current NOOK offering – NOOK 3G and NOOK Wi-Fi® eBook Readers, and the recently announced NOOKstudy™ online study platform and software solution for higher education.

NOOK for Android offers those with devices using Android OS 1.6 and higher the ability to shop Barnes & Noble's expansive eBookstore of more than one million eBooks, including new releases, bestsellers and free classics, and download titles in seconds. Any customer's personal Barnes & Noble eBook library – purchased on a NOOK eBook Reader, online at BN.com or on another BN eReader-enabled device – will easily sync to their device in seconds so their library goes wherever they go.

NOOK for Android offers a fun and immersive eReading experience with the ability to customize text with many font styles and sizes, an easy-to-use navigation bar, reading in landscape and portrait modes, and graphical page turns. It is also the first Android eReader application to offer digital lending. Using Barnes & Noble's unique LendMe™ technology, customers can easily share eligible eBooks for up to 14 days with friends, who can enjoy these digital titles on a NOOK eBook Reader, iPad, iPhone, iPod touch® and PC enabled with free BN eReader software.

"NOOK for Android is customizable, fun and easy to use and we're excited to deliver the most-requested version of our free eReading software to the growing number of mobile customers using Android-based devices," said Douglas Gottlieb, Vice President, Digital Products for Barnes & Noble.com. "Android customers can enjoy the great NOOK eReading experience on their mobile device, including access to our vast digital catalog and their personal B&N digital library at their finger tips. And, of course, Android users can now enjoy Barnes & Noble's unique eBook lending feature to share their favorite eBooks with friends."

Added Gottlieb, "With NOOK for Android, and the other renamed software to follow, customers can also easily recognize and have confidence in Barnes & Noble's NOOK brand to provide them with a fun and easy-to-use eReading experience on any device of their choosing."

Key features available in NOOK for Android include:

· Shop Barnes & Noble's vast eBookstore: Search, explore and browse through more than one million digital titles at www.bn.com/ebooks directly by touching Shop Books from the Library. There are more than a half-million free eBooks available and free samples are offered for all eBooks. Learn more about titles from thousands of editorial and customer reviews. Pick a current bestseller, a classic or anything in between and download it wirelessly in seconds.

· Access your personal B&N digital library: All eBooks purchased through the Barnes & Noble eBookstore sync in seconds and are ready to read in your Library.

· Lend to friends: NOOK for Android is the only Android eReading app that offers eBook sharing with friends.

· Read your way: Customize the eReading experience by choosing from eight font types and five sizes, read in landscape or portrait modes and lock the screen orientation.

· Enjoy the read: The fun and immersive experience offers animated or sliding page turns, a navigation scroll bar, bookmarks and more.

· Easy access to your content: Using the Library List view, see the cover art, sort and filter your eBooks by author, title or recent reads. Access rich product details for the selected eBook, including the synopsis and more books from that author.

· Read across multiple devices: Android users can now complement their eReading experiences with Barnes & Noble's other eReader experiences such as NOOK eBook Readers, previously announced eBook readers powered by the Barnes & Noble eBookstore, and a variety of other computing and mobile devices, including iPad, iPhone, iPod touch, BlackBerry® and HTC HD2™ smartphones, HP computers, PC and Mac®.

· Pick up where you left off: Sync the last page read of the last eBook opened on an Android device with BN eReader (soon to be renamed NOOK) software-enabled devices including PC and iPad. Coming soon, both will sync with NOOK for iPhone and more devices to follow.

· Follows the standard: Read eBooks formatted in ePub, quickly becoming the industry standard.

Those signing up for a new BN.com account when downloading the new application, will also find three Barnes & Noble Classics Series eBooks – Dracula, Little Women and Pride & Prejudice – in their libraries, along with samples of two current bestselling eBooks.

NOOK for Android is now available at www.bn.com/nookforandroid. Barnes & Noble continually enhances its eReader software and will add new features to its Android offering this summer including highlights and notes, a search library and look-up feature, library grid-view and more. For more information on free BN eReader (soon to be renamed NOOK) software and apps, please visit www.bn.com/ebooks/download-reader.asp.

The Barnes & Noble Digital Library Advantage

Barnes & Noble's Lifetime Library™ helps ensure that Barnes & Noble customers will always be able to access their digital libraries on a variety of devices as well as on BN.com. In addition, Barnes & Noble's use of ePub format and Adobe technology allows customers to read all of their digital content across a growing universe of devices.