Barbara Kruger computerized chess set isn't impressed by your bishop [Video]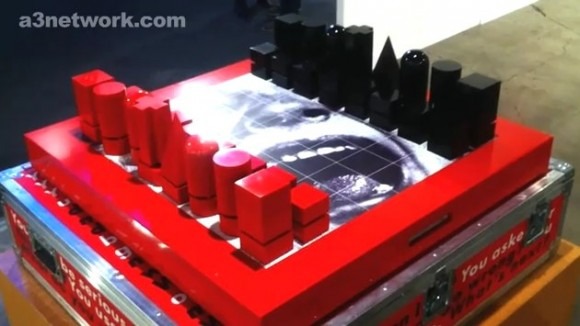 Electronic chess sets have been around for ages, but seldom do they goad or insult you while you're playing. That's because most chess sets aren't like artist Barbara Kruger's, a custom electronic kit crafted from Corian and able to say things like "don't even think about it" and "why prolong the pain?" as you play, and which has been on display at Art Basel Miami Beach 2010.
Video demo after the cut
It's the handiwork of UK specialists Machine Shop, who were responsible for producing the Corian figures and integrating the three integrated computers and 96 microprocessors responsible for tracking moves and triggering speech. Kruger is known for her aggressive slogans printed in stark white text on a red background, a color theme that's applied to the chess set's case and to the color of the pieces themselves.
[Thanks Buster!]