Bang & Olufsen BeoTime clock/remote thinks it's a flute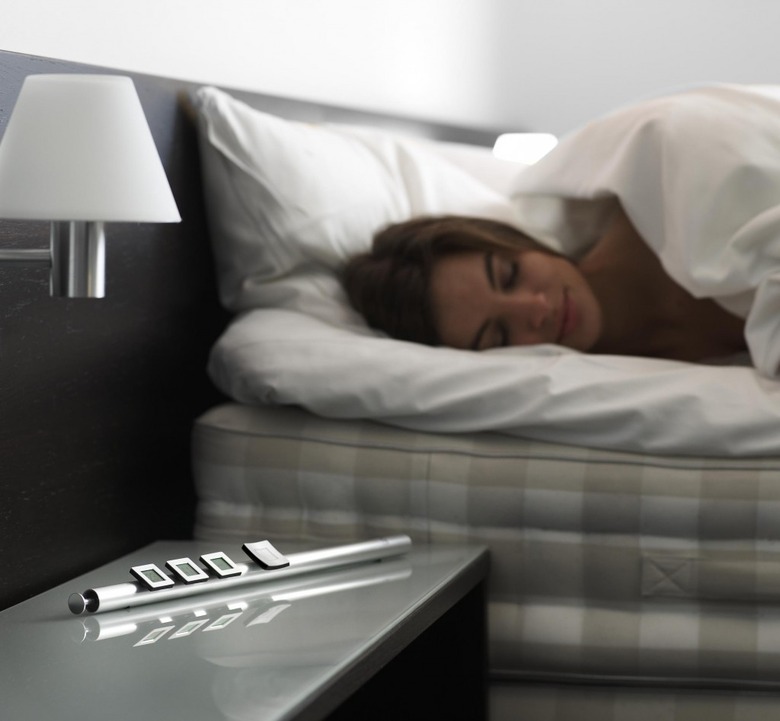 Now, it's Bang & Olufsen time, so please suspend all disbelief and reset your "it's how much?!" shock reaction.  The Danish company has unveiled its latest product, and we've a feeling Alyson Hannigan would approve.  The BeoTime alarm clock best resembles a flute, but is actually a way to not only get you up in the morning but to control your house full of expensive B&O A/V equipment.
Three small, square displays show the time, alarm time and which source will be used to rouse you.  Switching on or off the alarm is done by the trumpet-style button on one end, and tapping or touching the BeoTime activates the screen backlighting.  There's also an optional wall-bracket, to which the BeoTime magnetically clips.
Picking it up, a tilt-sensor turns the BeoTime into a remote control, with the displays now switching to indicate which source is being managed.  It will function as a sleep timer, volume & channel control or lighting control, depending on what B&O kit you've invested in.
As you'd expect, there's a serious sting in the tail and that's the price.  When the Bang & Olufsen BeoTime is released in August 2009, it'll have a an MRSP of $375.
Press Release:
Bang & Olufsen introduces BeoTime alarm clock complete with system integration capabilities

Bang & Olufsen, the Danish retailer of high-end audio and video products, launches the new BeoTime – an alarm clock that is equal parts stylish and functional. In addition to its time-telling operation, BeoTime also doubles as a control for Bang & Olufsen systems in the home.

"We are excited to introduce BeoTime to the Bang & Olufsen product porfolio," said Zean Nielsen, President of Bang & Olufsen America. "We can offer high-end products at both ends of the price spectrum – from entry level to full home entertainment systerms."

BeoTime features a built-in sleep timer which can switch all Bang & Olufsen equipment in the room to standby after a selected time interval of up to 120 minutes – a convenient feature for those who like to stay up watching television or fall asleep to the sound of a favorite CD without having to worry about turning the music off. In addition to the alarm and sleep timer functions, you can use BeoTime for basic operation of the bedroom television, loudspeakers, or light control. BeoTime also makes a unique desk clock, ideal for one's work or home office.

BeoTime is characterized by a high degree of convenience and ease of use. It can be held in one hand and operated with one's thumb. Through a built-in tilt sensor, display information and button functions change orientation in accordance with how BeoTime is held, left on the nightstand, or placed in its wall bracket.

Visual identity

The designer, Steffen Schmelling, was inspired by things that reminded him of a pleasant experience in waking up, and thus he thought of Mozart's The Magic Flute – a story with wonderful music, in which light defeats dark, and there is an inherent mix between dream and fantasy. The "flute" was an obvious design choice to represent such surreal disposition.

BeoTime is a beautifully anodised and polished aluminium tube, with a trumpet-shaped button that protrudes from one end when the alarm is activated. The button clicks in and out when pressed (reminiscent of a classic alarm clock) and is used to switch the alarm on and off. At the other end of the tube, a cover conceals the battery compartment for three batteries with a life of approximately one-year. Two rubber feet, one at each end of the tube, keep BeoTime steady when placed on a table surface. For wall-mounting, BeoTime rests in an almost invisible magnetic wall bracket.

Menu navigation is done with the main square button in the center of the unit. Three separate square displays, which feature dark text on a bright background, show the present time, alarm time, and wake-up source (alarm chime versus audio system). The current time is always visible, and because of a built-in motion sensor, the display backlight is activated by a simple touch, e.g. to check the time during the night.

BeoTime will be available at all Bang & Olufsen showrooms August 2009. MSRP $375.00.
[Thanks Sarah!]