Bang & Olufsen BeoSound 5 digital music system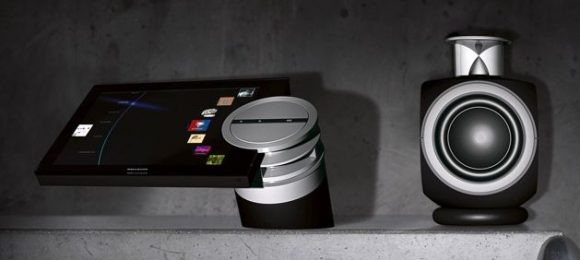 Bang & Olufsen have officially announced the BeoSound 5, a digital music system intended to bridge the gap between the company's high-end hifi systems and music stored digitally.  The main interface is the BeoSound 5 controller, a 2.65kg table-top or wall-mounted remote dominated by a 10.4-inch 1024 x 768 LCD and an aluminium scroll wheel.  Providing the power is the BeoControl 5, a 500GB music server with internet connections.  The whole system runs MOTS (More Of The Same), B&O's new intelligent playlist system.
MOTS analyses tracks by rhythm, syncopation, key tonality and vocal harmonies, and creates automatic playlists that evolve as you choose music and add to the list.  It's impossible to tell without experiencing the system how well this works, but B&O apparently have at least two patents pending. 
Music is stored in lossless formats, with connections on the BeoMaster including B&O MasterLink, IR input, analog line-out, S/PDIF output, DVI-I, DVI-D (for the controller), YPbPr, S-Video, Composite video, three USB 2.0 ports (one for the controller) and ethernet.  It runs Windows XP Embedded.  Meanwhile the BeoSound 5 controller itself has power, USB and HDMI/DVI connections.
Supported formats include WMA, WMA Lossless, MP3, WAV, ASF and AAC, together with internet radio streams in WMA, MP3, ASX and M3U.  It will also show video in MPEG, MPE, MPG, AVI, WMV and VFW formats.  500GB is enough room for over 28,000 songs stored losslessly.
The Bang & Olufsen BeoSound 5 system – including controller and server – will be available from March 2009, priced at around £3,500 ($5,377).