Bang & Olufsen BeoCom 5 dual-landline & VoIP handset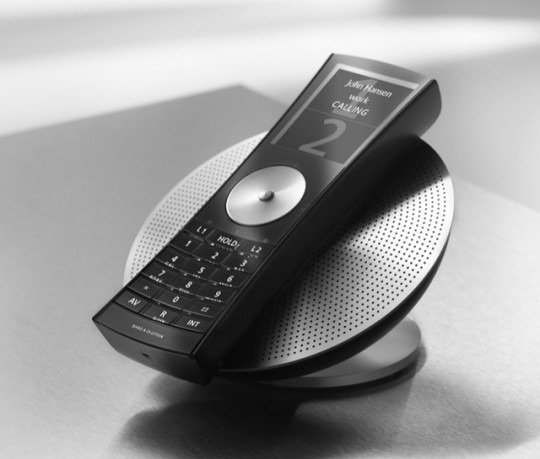 Bang & Olufsen have been through a phase of unusually shaped landline phones – the banana-esque BeoCom 2 is a good example – but they're returning to their slightly more sensible roots with the new BeoCom 5.  The dual-line DECT phone works both as a twin landline handset and as a VoIP device, and magnetically docks either onto its charging plinth or onto a portable speakerphone (that also charges the handset).
There's also a 2-inch LCD, aluminum scroll wheel (that doubles as a four-way D-pad with center-select) and plenty of metal and glass in the the construction.  It's also possible to set the screen and keypad backlight to different tones, so as to differentiate between handsets – up to eight are supported simultaneously – or even match your decor (facetious, surely, since B&O kit only ever ends up in monochrome loft-style apartments).
No word on pricing as yet, but given this is B&O we wouldn't expect it to be in the realms of affordability for most buyers.  Still, if you've already outfitted your home with Bang & Olufsen tech, the BeoCom 5 will slot neatly into the system.
Press Release:
BeoCom 5

A versatile and elegant phone for modern living

An individualised two-line handset for the household, BeoCom 5 supports IP telephony and includes a cordless speaker phone, built-in phonebook and full-graphic display.

BeoCom 5, the new cordless phone from Bang & Olufsen, is an invaluable and elegant companion that follows your lead when leisure time is in short supply. From its support of IP-telephony to its brilliant mobile speaker phone, BeoCom 5 includes the features you need, when and where you need them.

BeoCom 5 allows IP telephony, which allows you to send and receive telephone calls via your computer instead of an older landline connection. This gives you the data security and integration with other Internet services that characterizes IP-telephony. At the same time, BeoCom 5 is a two-line phone, making it possible for you to have dedicated home and office lines in the same phone system, which in turn can include up to eight handsets. This makes BeoCom 5 the ideal choice for modern homes.

The jet-black BeoCom 5 handset is stylish as well as easy to use, whether it's lying on the table or mounted in its portable speaker phone. "BeoCom 5 combines utility, elegance and user-friendliness in a really unique way," says Product Manager Rie Kold Pripsø. "The handset fits your hand extremely well, and with the full-graphic display and backlit keypad on the rear, facing away from you, the surface keeps its shine."

With BeoCom 5, you can select colour patterns for display information to give each handset a unique appearance, perhaps matching the décor of each room. The handset can be placed in the speaker phone, but also in a charger you can place on a table or mount on a wall. A built-in magnet holds the handset in place.

In standby, the phone surface appears to be uniformly black and glasslike, but when BeoCom 5 is placed in the charger, the dimmed clock feature appears. The clock is visually captivating; you can choose between normal time indication with digits and a solution where the minute and the hour hands are replaced by circles which move gracefully, like planets orbiting each other. When you pick up or operate the handset, the backlight in the display and keypad activate smoothly, magically revealing the colour theme of the individual handset.

With the portable speaker phone – which doubles as a charger – you don't need to stop in your tracks the moment you get a call. You simply take the speaker phone with you as you move from room to room. Continue the conversation – and include the rest of the family – without breaking your stride. "The real genius of BeoCom 5, the portable speaker phone, gives BeoCom 5 its unique identity in a world where so many people are walking around with phones seemingly glued to their heads," states Rie Kold Pripsø.

BeoCom 5 brings user-friendliness to a new level, making the most of the 2-inch LCD display, 176 x 220 pixel resolution, and crystal-clear graphic rendition. This gives you as comprehensive an overview of call information as a mobile phone. In addition to the display, the aluminium navigation wheel makes browsing the phonebook, call lists and menus easier than ever. The wheel includes four push points at the edge and a selection button in the middle for activating the most frequently-used functions.

A DECT telephone, BeoCom 5 can be used with its dedicated two-line base, BeoLine 2, but can also be used as a one-line handset in existing BeoCom phone systems, such as BeoCom 6000. Up to 400 numbers can be stored in the Phonebook when BeoCom 5 is used with BeoLine 2.