Bambooti Makes Your Macbook Elegant With Real Wood Covers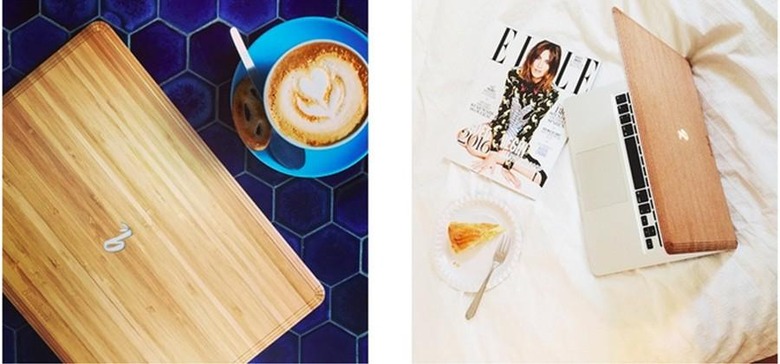 MacBooks are attractive on their own, of course, but sometimes you need something a little different, a little more natural and earthy. Enter Bambooti and its array of thin wooden covers for Apple's laptops. These covers don't just look like wood — they're made from real bamboo, black ash, cherry, walnut, and other wood options, but they're ultra thin at less than a millimeter.
The covers are about as thick as a credit or debit card at 0.7mm in thickness, and they're ultra light at 60 grams. The products are handmade in Europe, according to Bambooti; they're laser cut and then sanded down. Because they're made from real wood, each one is a little different with its own grain pattern.
Once cut and sanded, the covers are coated with vegetable oils, leaving them both raw and sealed without chemicals. The natural grain are complemented with laser cut patterns along the edges and in the middle. Adhesion, meanwhile, is achieved using 3M — the maker says the cover won't leave residue behind on the laptop when removed.
Bambooti, the company behind the covers, is seeking funding on Kickstarter, where it has exceeded its $10,000+ goal with $15k+ in pledges and 20 days remaining. The super early bird covers are already sold out, but those interested can pledge 50 Euro to get the "Early Bird" option. Shipping to backers is estimated to start in March of this year.
SOURCE: Kickstarter