Balls-o-steel race driver and navigator win race with Lamborghini on fire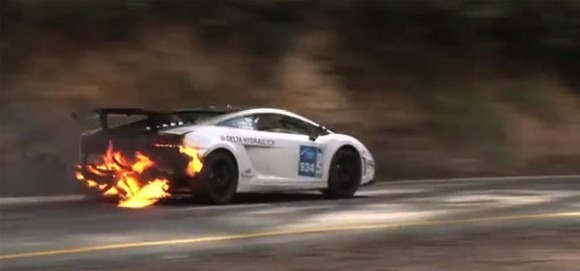 This is epic. A race driver named Jason White and his navigator were breaking in their new Lamborghini Gallardo Super Trofeo Stradale at the 2011 Targa High Mountain race. Things were going well and they were flying by Porsches and other lesser rides on their way around the course. Not far from the end of the race the team noticed that their ride was on fire.
You can see the video to get the teams full reaction. It boils down to "we are on fire and it's pretty big, should we stop," from the driver. The navigator says "nah, let's go on and put it out at the top." That is just what they did as they flew around the course with the entire rear end of the Lambo in flames.
Not only did the team power on to the finish before worrying about the flames, they actually won the race. The driver noted that they didn't know what made the new car catch on fire. He also says at one point they could actually feel the heat from the flames.
[via Jalopnik]