BakerTweet: @Thehungry, The Donuts Are Fresh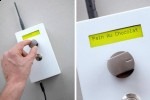 There's little as pleasant in life as freshly-baked donuts.  Or chocolate cake, or perhaps cup cakes or sourdough bread.  That's why more bakeries should consider investing in a BakerTweet: designed by Poke London, it's an easy way for bakeries to send out messages – via Twitter – that more things are fresh out of the oven.
Video demo after the cut
The BakerTweet uses an Arduino board and Linksys WiFi adapter, all bundled up in a bakery-proof, simple to use box.  The dial scrolls through a list of baked goods, and the sturdy button sends out a pre-configured tweet.  A web-interface allows you to customize the messages or add new products.
The first BakerTweet has been installed in the Albion Cafe in London, and you can follow their Twitter feed here.  No word on how much it cost, but apparently they're working on a tutorial so that other businesses can put together their own; alternatively, ask nicely and they'll sell you a custom one.
[via we make money not art]