Baidu Dubike smart bike teaser site goes live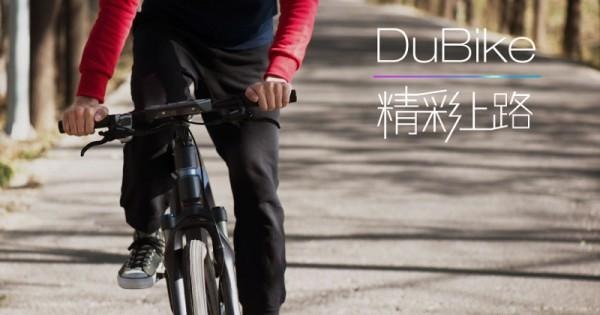 We have a lot of smart objects in our lives these days. Smart phones, smart watches, smart homes, and a bit of smart cars. What about smart bikes? No? Well, Baidu thinks "yes" and its Dubike smart bike is now up for everyone to see. Or at least images and videos of it. The Dubike is indeed equipped with your standard fare navigation and tracking features, but it is a bike that does not easily reveal its geeky nature and looks like any classy, high-end bicycle.
Of course, those classy bikes don't have much of a brain. Although not as capable as a smartwatch, the Dubike possess much of the same features as your smartwatch, at least in terms of navigation, health monitoring, and social networking. It's like a smartwatch, but you ride on it instead of wearing it. The bike connects with your smartphone naturally, making it a giant phone accessory. For navigation, it has a rather interesting guidance feature that lights up to tell you which direction to take, instead of forcing you to look down on your phone, hopefully not while in motion.
The Dubike is also equipped with a few sensors that can monitor your activity and biometrics, you know, like how smartwatches do it. So you'd pretty much be like getting a fitness band, except one that's designed specifically and only for cycling. There's some social aspects to the experience as well, but this time not through the bike but via the smartphone ope that goes along with it. Connect with other bikers, rate routes, and share paths, as much as you want. But really, hopefully not while actually moving.
A tech savvy smartbike such as this will naturally bring worries about security, which is apparently a really big issue in China. To assuage worries just a bit, the bike is equipped with a GPS which will let you track its location in real time via the smartphone app. It won't prevent the bike from getting stolen in the first place, but at least you will know where it goes when it does.
No word yet on availability and pricing for the Baidu Dubike, but rumor is that it should be out before the year ends. Whether it rides to other countries, however, is a different question entirely.
SOURCE: Baidu
VIA: Tech In Asia